Tom Jones 'baffled' by leaked e-mail row over new album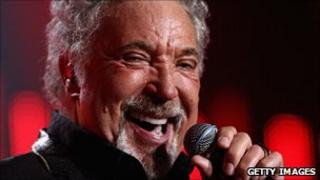 Sir Tom Jones has denied suggestions that a leaked e-mail from his record label, criticising his new gospel and blues album, was a publicity stunt.
On hearing Praise & Blame, Island Records executive David Sharpe wrote is "this is some sick joke???"
The label has since apologised, leading to claims that the row was fabricated to generate publicity for the singer.
But Sir Tom told the BBC: "If it is, then it's a weird way - to condemn an album. It still baffles me."
In the e-mail, which was leaked to The Sunday Times, Sharpe wrote of his "surprise" on hearing "hymns" played through the Island Records office.
He continued: "My initial pleasure came to an abrupt halt when I realised that Tom Jones was singing the hymns! I have just listened to the album in its entirety and want to know if this is some sick joke???
"We did not invest a fortune in an established artist for him to deliver 12 tracks from the common book of prayer [sic]."
Apology
Speaking ahead of his set at the Latitude Festival in Suffolk, Sir Tom said: "You know, he's on the financial team there, he's not on the creative side.
"But people who read the article, they don't know that."
He added: "It says he's one of the vice presidents or the vice president of Island Records. But he didn't have anything to do with the making of the album.
Praise & Blame, which is to be released on 26 July, is a far cry from Sir Tom's more recent forays into pop and dance music.
The record sees the Welsh star covers tracks by the likes of Bob Dylan and John Lee Hooker and features an appearance by musician Booker T.
It is the first record Sir Tom has released for Island, having moved from his home at EMI in 2009 for a reported £1.5m.
"They're apologising for what happened," he said, "They said it just got out of hand. I don't know what the initial idea was to be honest, but it wouldn't be the way that I would try to promote something."