Lindsay Lohan feeds 'insatiable' media demand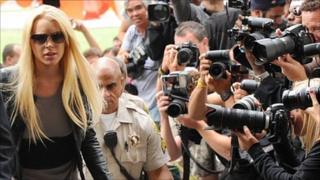 Lindsay Lohan has become the latest Hollywood star to have her private life played out in the public spotlight.
Yet the blanket media coverage of her recent travails is a far cry from Hollywood's so-called 'Golden Age', when stars were venerated and their indiscretions overlooked.
Silent movie star Roscoe 'Fatty' Arbuckle not only survived charges that he killed a young starlet but was in the process of rebuilding his career at the time of his death.
Being accused of raping two teenage girls, meanwhile, did not prevent Errol Flynn bouncing back and becoming more popular than ever.
"For a long time agents and publicists wielded great power," says Professor Leo Braudy, cultural historian and author of The Frenzy of Renown: Fame and Its History.
"They served as gatekeepers to the stars, and reporters wanted to keep them sweet in the hope of gaining greater access.
"In the last few years all that has changed," he continues. "Now we're obsessed with finding out what is going on behind the scenes."
One only has to look at the media frenzy surrounding actor Mel Gibson to see that nothing is now off limits - even if that includes private telephone conversations.
Alleged recordings of Gibson threatening his former girlfriend, posted on the US website Radar Online, could cost the Braveheart star more than access to the couple's eight-month-old child.
Some believe his entire career is at stake and that the bad publicity generated by the tapes could make it difficult for him to find work in Hollywood again.
As deference to the stars has apparently diminished, intrusion by the paparazzi has intensified.
Indeed, their ubiquity in Los Angeles is such that the so-called 'stalkerazzi' have transformed the media landscape.
According to Melanie Bromley, west coast bureau chief of Us weekly, which led the field in reporting the Tiger Woods scandal, it has become increasingly difficult to hold onto an exclusive story.
"There was a time when we would get word of something on Friday and could hang on to it until the following Wednesday when the magazine hit the news stands," she explains.
"Now there's very little chance it will keep over the weekend. The news cycle simply moves so fast."
Chloe Millar is west coast picture editor at WENN (World Entertainment News Network) and assigned five photographers to Lindsay Lohan's court surrender.
With back-up from nearly a dozen freelancers, she was confident the agency had every location covered.
"It's become an increasingly cut-throat business," she tells the BBC News website.
"With so many people getting basically the same picture, it's come down to a race to get your shot out first."
The picture every agency wants to land is a shot of the 24-year-old star in handcuffs.
"An exclusive picture like that would mean big bucks for whoever took it," says Millar.
"We could be talking hundreds of thousands of dollars."
Such is the overcrowding in California's jails that Lohan is expected to serve only a fraction of her 90-day sentence for probation violation.
Until she is released, she will be away from the prying eyes of the journalists whose life-blood she has become.
Who will they turn to to plug the void? According to Millar there will be no shortage of candidates.
"The supermarket tabloids and TV shows still have plenty of space to fill," she says.
"With Lindsay under lock and key, we'll just have to find someone else."
Brandy Navarre, managing editor of leading LA photo agency X17, sums up the market in one word: "Insatiable."