Obituary: David Croft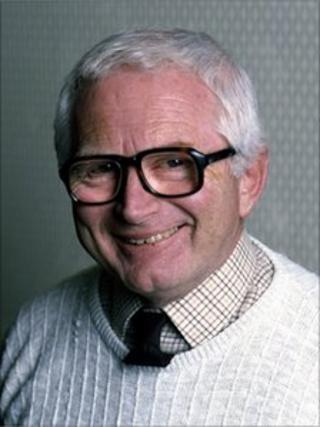 If there really was a golden age of television comedy, it is due in no small part to the talent of David Croft, who has died at home in Portugal at the age of 89.
His collaborations, first with Jimmy Perry and later with Jeremy Lloyd, produced some of comedy's best loved characters and drew audiences in their millions.
Croft was born David John Sharland on 7 September 1922 in the well-heeled Sandbanks area of Dorset.
Showbusiness was in his blood. His mother Annie was a noted stage actress, while his father Reggie had carved out a career as a radio performer in America.
The young Croft made his first theatrical appearance at the age of four when he wandered onto the stage where his father and mother were performing in a variety show.
He was 17 when he appeared, briefly, as the shop delivery boy Perkins in the 1939 film Goodbye Mr Chips. He later described the role as "the beginning, middle and end" of his film career.
He joined the army in 1942, graduated from Sandhurst and served in North Africa and the Far East, eventually rising to the rank of major.
After the war he dabbled in various areas of entertainment including acting, writing and singing - but his specialty was pantomime scripts, which he wrote for the noted producer Freddie Carpenter, who staged performances across the UK.
In 1955, Croft joined the newly launched ITV network, landing a job as head of scripts in the light entertainment department at Associated Rediffusion, which then held the franchise for the London area.
Four years later, he moved to Newcastle and joined the newly launched Tyne Tees Television, before absconding to the BBC.
He worked as a producer and director on a number of the broadcaster's most popular shows, including Steptoe & Son, Up Pompeii and The Benny Hill Show.
While working on the sitcom Beggar my Neighbour, Croft's wife, theatrical agent Ann Callender, introduced him to Jimmy Perry - who had had a minor part in one of Croft's productions, Hugh & I.
Perry had served in the Home Guard during the war and had an idea for a sitcom based on his own experiences.
Croft took a copy of Perry's first script to the BBC's Head of Comedy, Michael Mills.
Despite BBC misgivings that it may be disrespectful to the Home Guard, a series was commissioned.
But Mills changed the original title, The Fighting Tigers, to Dad's Army and altered the names of some of the characters.
Mills also decreed that the inexperienced Perry needed some guidance and gave Croft the task of guiding him through the initial episodes.
The first series was entirely produced and directed by Croft, making its debut on 31 July 1968. Eventually a total of 80 episodes were filmed, in addition to several Christmas specials, and the programme ran until 1977.
Since then it has been repeated ad infinitum, not only in the UK but across the world, as well as being adapted for radio.
The ending of each TV episode would feature a caption, "You Have Been Watching", followed by shots of the main characters and the names of the relevant actors.
It was a device that would become a trademark of Croft's future productions - and one which is currently undergoing a revival in Miranda Hart's eponymous BBC sitcom.
In 1972, while production on Dad's Army continued, Croft began working with Jeremy Lloyd on a second sitcom, set in a department store.
Are You Being Served? originally appeared as a pilot in the BBC's Comedy Playhouse slot and eventually ran for 12 years, with some later episodes attracting audiences in excess of 20 million.
The show spawned a string of catch phrases, most notably Mr Humphries' cooing call of "I'm free!", while there was some mild criticism about the constant references to Mrs Slocombe's feline companion.
In 1974, Croft and Perry came up with another sitcom based on army life, It Ain't Half Hot Mum.
The show chronicled the misadventures of a British army concert party in India and the Far East, and again drew on Croft's own military experience.
Relying heavily on risque jokes and double entendre, It Ain't Half Hot Mum eventually ran to 56 episodes between 1974 and 1981 - and spawned a number one single for actors Windsor Davies and Don Estelle, in character as Battery Sergeant Major Williams and Gunner Harold Sugden.
Croft later said that he felt It Ain't Half Hot Mum was the funniest of his collaborations with Jimmy Perry.
By contrast, his second series with Lloyd, Come Back Mrs Noah, was a flop. One critic opined that it was the "worst British sitcom ever made". The duo fared little better with their follow up Oh Happy Band.
However, Croft redeemed himself when he joined up again with Perry for Hi-De-Hi! in 1980.
Drawing on Perry's stint as a Redcoat at Butlins, the series was set in a 1950s holiday camp.
It was supported by a brace of well-conceived, long-running storylines, not least the smouldering passion of Gladys Pugh for the camp's rather innocent manager, Jeffrey Fairbrother; and chalet maid Peggy's dream of becoming a yellowcoat.
Hi-De-Hi! won a Bafta as Best Comedy Series in 1984.
You Rang M'Lord?, which first aired in 1988, transferred some of the holiday camp cast to a stately home. This was Croft's last series in partnership with Jimmy Perry, although the two remained good friends.
In an interview with Bafta in 2008, Croft said the pair had a life in theatre prior to their success, which had held them in good stead.
"Our whole background was theatre - with acting, when you've done it youself even badly, you know the problems."
After the disappointment of Come Back Mrs Noah, Croft and Lloyd came up with 'Allo 'Allo!, a comedy based on the activities of the French Resistance during World War II.
It became one of the BBC's most successful sitcoms, although Croft only worked on the first six series.
Grace and Favour was an attempt by Croft and Lloyd to revive Are You Being Served? by transferring most of the cast and the camp humour to a manor house in Gloucestershire.
It was not a great success in the UK but was much more popular in America, where it was entitled Are You Being Served Again?
Croft was later reported to have been annoyed that the BBC had not adopted the American title for the UK shows, believing that it would have vastly improved the audience figures.
During the 2008 Bafta interview, ahead of their special award presented by former BBC executive Bill Cotton, the pair said that the BBC was "their home".
"If you're an artist, you've got to be left alone to get on with it - and that's what the BBC did," said Perry.
In 1995, the BBC aired Croft's last series - Oh, Doctor Beeching! - which was written in conjunction with Richard Spendlove.
Like, You Rang M'Lord?, it put some of the Hi-De-Hi! castmembers - including Paul Shane, in a remote branch line station threatened with closure. The sitcom ran for just over a year.
In all, David Croft was nominated for no fewer than 14 Bafta awards and, in 1981, won the prestigious Desmond Davies Award for his outstanding contribution to the entertainment industry.