Richard Madeley makes This Morning cameo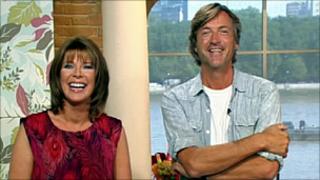 Ex-This Morning host Richard Madeley rolled back the years to present the first five minutes of the show because Eamonn Holmes was stuck in traffic.
Madeley, on the show as a guest with wife Judy Finnigan, stepped in to introduce the show with Holmes's wife and co-presenter Ruth Langsford.
He told viewers they were "watching This Morning in the year of our Lord, 2001" - the year he and Finnigan left.
Holmes was late after making his way from presenting Sunrise on Sky News.
Madeley and Finnigan, on This Morning to promote the latest incarnation of their book club - an online tie-up with retailer WH Smith - presented the programme from its first show, in October 1988, until July 2001.
Madeley, 54, told viewers his return was "totally mad - getting out of the lift here seeing all the old familiar faces".
"Judy and I were saying it's like stepping out of the tardis," he added.
When Langsford read out the This Morning email address, Madeley said: "That's one thing we never had to do back in 2001, read out an e-mail address because they didn't really exist."
When Holmes arrived on set, Madeley continued reading the autocue adding: "Just go away - my show."
Agony aunt Denise Robertson, who has appeared on This Morning since its first show, said: "I'm worried that I'm in a time warp seeing Richard there."
"You were milking that one," Holmes joked with Madeley when he took over.
Viewers were told Holmes usually arrived on set at the studios on London's South Bank at 1025 BST - ahead of the ITV1 show's 1030 BST starting time.
Sunrise, broadcast from the Sky News studios in Osterley, 13 miles to the west, finishes at 0900 BST.
Holmes and his wife are currently standing in as This Morning's presenters while regular hosts Philip Schofield and Holly Willoughby take a break.
The show was initially filmed at Liverpool's Albert Dock before it moved to the South Bank in 1996.