Authors await Man Booker shortlist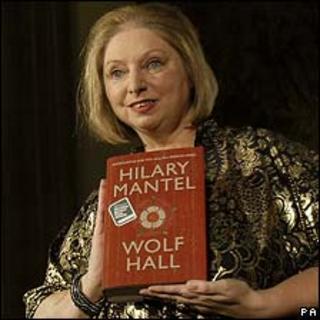 Thirteen authors are waiting to find out if their works have made this year's Man Booker Prize shortlist.
They include Australian novelist Peter Carey, winner of the prestigious award in 1988 and 2001.
A longlist was announced in July ahead of this year's shortlist, with the winner to be announced on 12 October.
Last month sales figures showed that the 13 books on the longlist were selling better than any other longlist titles since 2001.
Christos Tsiolkas' The Slap is most popular longlisted book, selling more than 5,000 copies in the first week of August.
Hilary Mantel won last year's Man Booker for her historical novel Wolf Hall.
Cash prize
The poet Sir Andrew Motion chairs this year's judging panel, which includes former dancer Deborah Bull and the biographer Frances Wilson.
Established names on the longlist include David Mitchell, Damon Galgut, Rose Tremain and Howard Jacobson.
Whoever wins the prize will receive £50,000, though the real reward is the huge sales boost the Man Booker generates.
The 13-strong longlist was whittled down from 138 titles and contains what Sir Andrew calls "powerful stories which make the familiar strange."
The shortlist, which is due to be announced at 1100 BST (1000 GMT) on 7 September, normally comprises six novels, although the figure occassionally varies.
Besides Carey, South African novelist JM Coetzee is the only author to have won the Man Booker twice.
However, Anglo-Irish author JG Farrell won the Man Booker Prize in 1973 for The Siege of Krishnapur and earlier this year picked up the Lost Man Booker Prize for his novel Troubles.
The "lost" award was a one-off prize for books published in 1970, which were not considered for the honour at the time.