Charity project photo up for Taylor Wessing prize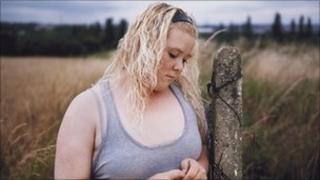 A picture of a girl discussing people's prejudices at a project for obese youngsters is among images shortlisted for the Taylor Wessing prize.
The image of the girl, named only as Chelsea, was taken by South Wales-born photographer Abbie Trayler-Smith at the Shine charity project in Sheffield.
It is up against images of a girl hunting, drug-addicted twins and an intimate shot of a photographer's wife.
The £12,000 photographic prize winner will be announced on 9 November.
The picture by Trayler-Smith is one of a series taken at the Shine project.
"Whilst talking about how it feels to live with the prejudices that come with being overweight, I looked away to change the film in my camera," said Trayler-Smith, who taught herself photography while studying law at King's College in London.
"When I looked back, the picture was suddenly there.
"I shot one frame."
David Chancellor's picture of a 14-year-old American girl hunting in South Africa, Jeffrey Stockbridge's image of drug-addicted twin sisters in the US and Greek photographer Panayiotis Lamprou's portrait of his wife are the other contenders.
An exhibition of 60 pictures considered for the prize will be exhibited at London's National Portrait Gallery from November to February.