Affleck's Town movie tops US box office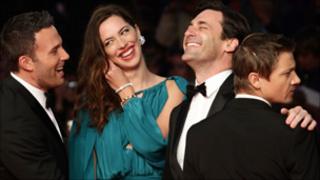 Ben Affleck heist thriller, The Town, has debuted at the top of the US box office chart.
The movie, about bank robbers in Boston, also stars Rebecca Hall, Chris Cooper and Pete Postlethwaite.
Affleck, who also directed and co-wrote the film, said he was "shocked and pleased" at its number one position.
"It is a modest movie, it's R-rated but obviously people want to see it," he said at a Bafta screening in London's West End on Sunday.
Affleck said it took a lot of persuasion to get Postlethwaite, who plays crime boss Fergie the Florist, on board.
"I had to call Pete five times as he kept turning me down - I had to accommodate him because I knew how great he was," said Affleck.
The film is based on the novel Prince of Thieves by Chuck Hogan.
On the US box office chart, high school comedy Easy A came second with $18.2m (£11.6m), according to Sunday estimates.
The film stars Emma Stone as a student who takes pity on geeky boys by letting them say they have had sex with her.
The movie cost only $8m (£5m) to make.
Thriller Devil, produced by M Night Shyamalan, came in at number three with $12.6m (£8m).
Last week's number one, the 3D horror sequel Resident Evil: Afterlife, dropped to fourth place with $10.1m (£6.4m).
Sci-fi drama, Never Let Me Go, starring Carey Mulligan, Andrew Garfield and Keira Knightley, made $120,830 (£77,470) in its first weekend at only four cinemas.