Hitchcock Blackmail score performed at UK premiere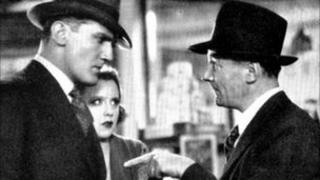 The BBC Symphony Orchestra is to perform a new score to the Alfred Hitchcock film Blackmail for the first time in the UK this weekend.
Blackmail, a thriller-drama film that starred Anny Ondra, John Longden, and Cyril Ritchard, was the 3D summer blockbuster of its day in 1929. But the (then) new cinema technology did not require special glasses - what was new was sound, and Alfred Hitchcock was determined to master it.
His film was one of the first in Britain to be made both as what was known at the time as a talkie (film with dialogue), and as a silent version for the cinema screens which did not yet have audio.
But now composer Neil Brand has written an orchestral score for the silent version of the early Hitchcock masterpiece.
It will have its British premiere this weekend at The Barbican in London, with the BBC Symphony Orchestra accompanying the film. But is Mr Brand 80 years too late?
Mr Brand has also scored BFI video releases of such films as South (Shackleton's Journey to the South Pole) and another Hitchcock film, The Ring.
He said that despite "wonderful sequences" in the sound version of Blackmail, like the echoing use of the word "knife" after a woman has stabbed a man to death, he actually prefers the silent version.
"For me, it's a better film," he said. "It's actually faster, smoother. But it's also a very complex film. Very adult, very dark."
Blackmail is recognised as one of Hitchcock's best early works, and in it, you can see elements of the great director he would become.
The climactic chase scene, where the actor is chased past the Egyptian mummies of the British Museum, through the Reading Room and ends up on the building's dome, shows the "famous-landmark-in-a-finale" technique that Hitchcock used in future.
The curator of silent film at the British Film Institute Bryony Dixon said Hitchcock's ability to master both silent film and (at the time) the new medium of sound was remarkable.
"His imaginative use of sound was unusual. He did much better than most other directors of the day in working out how you put sound in a creative way to the picture," she said.
When he was writing the score, Neil Brand said he aimed to create the kind of music that Hitchcock used in his later films.
"I love the movies of the 40s and 50s, particularly Hitchcock's great thrillers,"he said.
He said he wanted to use that style of music "to make a movie that's 80 years old work for a modern audience".
There are conscious echoes of films like Vertigo and Psycho in the score - reminiscent of sounds like the famous screeching strings of the Psycho shower scene.
Before talking pictures really became popular, cinema owners used to bring in extra musicians to boost their box office takings.
Neil Brand said a full orchestra would have been a rarity.
"All the main cinemas had bands of about 30 or 40 anyway.
"When they had a big show that they knew was going to be a hit, like Ben Hur in 1926, they'd hire in extra musicians and they'd whack up the seat prices."
The British Film Institute (BFI) has begun to raise money to restore the ageing prints of nine of Hitchcock's early silent films, including Blackmail.
The BFI believes they are a valuable part of Britain's film heritage.
Bryony Dixon believes watching a silent film with an orchestral accompaniment provides great artistic enjoyment.
"Anyone who hasn't seen a good silent film with a great score is missing something.
"It's like not having been to the ballet or the opera. It's a fabulous experience. Everyone should do it."
Listen to the full report on Radio 4's PM programme.