Key role for typewriter in unseen Rattigan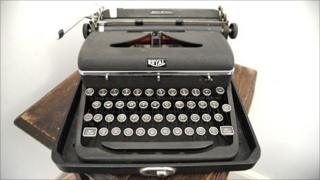 A previously unseen play by Terence Rattigan, opening in London next week, will feature a stage prop that played a unique role in its history.
It is believed that Rattigan's old Royal typewriter was used to type the play Less Than Kind, written by 1944.
The typewriter was given by Rattigan in the 1950s to his friend and partner Adrian Brown, who is directing Less Than Kind at the Jermyn Street theatre.
This year marks the centenary of Rattigan's birth in 1911.
"I never actually saw him typing," Brown told the BBC during a break in rehearsals. "He would write the plays in longhand.
"But his faithful secretary Mary Herring probably typed this play on that typewriter in 1944."
Brown met Rattigan in Paris in the 1950s. "I came back to London and began writing a few scripts, but I had no typewriter," he recalls.
So Terry said, 'why don't you borrow this old thing I'm not using any more?' It was one of those borrowings that turned into a gift."
Brown used the typewriter throughout the 1960s before storing it away in his loft.
A couple of years ago he donated it to Trinity College in Oxford, where Rattigan studied in the 1930s.
"No sooner do I give it away than I have to borrow it back," Brown said of the typewriter's return to London.
The machine's starring role has also helped ticket sales. Trinity College itself has block-booked three performances of Less Than Kind in early February.
Thanks to such plays as The Winslow Boy, The Browning Version and After the Dance, Rattigan was one of the most successful playwrights of the mid-20th Century.
The celebrations for Rattigan's centenary year include several major revivals, including The Deep Blue Sea at the West Yorkshire Playhouse and Cause Celebre at London's Old Vic.
There will also be a new film of The Deep Blue Sea, directed by Terence Davies and starring Rachel Weisz.
Rattigan also wrote screenplays for numerous films, among them The Prince and the Showgirl, Goodbye Mr Chips, The Yellow Rolls Royce and Brighton Rock.
Yet Less Than Kind has never been staged in its original form, having been extensively re-written for American Broadway star Alfred Lunt and his English-born wife Lynn Fontanne.
It was that version - retitled Love in Idleness - that played in 1944 at the Lyric theatre in London's West End.
The plot concerns Michael Brown, an idealistic teenager who returns from evacuation in Canada during World War II to find his widowed mother, Olivia, living with a married Tory MP and industrialist.
The play centres on Olivia's anguish as she is torn between her love for her son and for her lover, Sir John Fletcher.
The cast includes Michael Simkins as Sir John, Sara Crowe as Olivia Brown and David Osmond as Michael.
"We have found a play that has never been seen which shows Rattigan at the top of his form," says Adrian Brown.
"It's exhilarating to have the opportunity to put it on."
For Simkins, an actor who has written about his profession for The Guardian, the play marks his first experience of Rattigan.
'Fusty reputation'
"I've been acting for 30 years and Rattigan disappeared between the cracks," he said.
"You hardly heard Rattigan's name, apart from his most famous plays which had a slightly fusty reputation."
"The thing he does so beautifully is where people are saying one thing and saying another," said Crowe.
"He seems to have the knack of getting under people's skin."
Having the typewriter on stage gives the play a special "atmosphere", the actress added.
Adrian Brown hopes the centenary year will establish Rattigan - who died in 1977 - as a serious dramatist.
"There's a great deal going on underneath the surface, much in the way there is in Chekhov," he told the BBC News website.
"Terry would say jokingly to me he thought there were three dramatists - Shakespeare, Chekhov and himself.
"He said that with a laugh, but I think he wouldn't have minded if his legacy to the world was that he was considered alongside them."
Less Than Kind runs at the Jermyn Street theatre from 18 January to 12 February.