Andrew Motion pays poetic tribute to Philip Larkin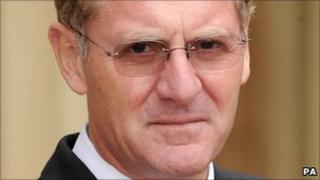 Former Poet Laureate Sir Andrew Motion has paid tribute to the late writer Philip Larkin in a poem.
Sir Andrew said the poem's intention, Legacy, was to remind people "to see the miraculous in the ordinary".
It was written for an exhibition curated by Cancer Research UK, which opens on Thursday at London's Saatchi Gallery.
Larkin, who died in 1985, turned down the role of Poet Laureate a year prior to his death.
He was known for his collection of poems which included The Less Deceived, The Whitsun Weddings and High Windows.
Willpower: What's Your Legacy? will also feature work from current Poet Laureate Carol Ann Duffy, crime writer Patricia Cornwell, and actors Tamsin Greig and Simon Callow.
All contributors were asked to explore the notion of legacy and how they would wish to be remembered.
"Philip Larkin's legacy to us is a refreshed sense of the need to see the miraculous in the ordinary," Sir Andrew said.
"The lines remember that he was a gifted photographer, as well as a great poet - and in both his pictures and his writing he went to great lengths to celebrate things that are easily overlooked."