Sir Michael Lyons: BBC strong despite gaffes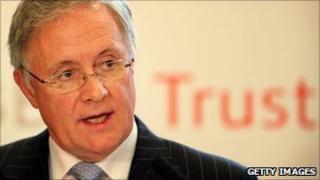 The past few years have been one of the BBC's strongest periods despite some "memorable" gaffes, BBC Trust chairman Sir Michael Lyons has said.
In a speech to the London School of Economics, Sir Michael praised the BBC's comedy, factual and news outputs.
However, he said the corporation had "shot itself in the foot" several times including over the Jonathan Ross and Russell Brand phone scandal.
It was one of his last speeches before stepping down from the role next month.
Sir Michael described the "Sachsgate" incident as a "uniquely toxic combination of profanity, misogyny, bullying and black farce" which had revealed an "unforgivably cavalier attitude" to editorial standards.
Ross was suspended for 12 weeks without pay in 2008 after he and Brand left obscene messages on actor Andrew Sachs' answerphone which were broadcast on Brand's Radio 2 show.
He also mentioned other episodes including fake competition scandals and the trailer for a documentary about the Queen which wrongly implied she walked out of a portrait session.
Reflecting on recent years, Sir Michael described the events leading to the publication of Lord Hutton's report examining the death of weapons expert Dr David Kelly as the "greatest existential threat the BBC has faced in recent times".
He said that despite some of its recent failings, the BBC continued to be "the greatest cultural institution the UK has ever produced".
"These have been turbulent years, but the fact that the BBC has come through them in good shape to face the future is evidence of its fundamental resilience," he added.
Former Hong Kong governor Lord Patten is expected to succeed Sir Michael after being named last month as the government's preferred candidate for the job.
But Sir Michael refused to "deliver some kind of handover note" to Lord Patten who he said was "quite capable of shaping his own agenda without any help from me".