Pina Bausch season to grace Olympiad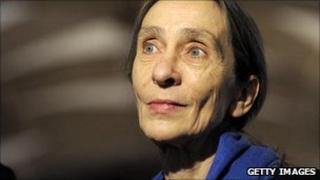 Sadler's Wells and the Barbican Centre are collaborating for the first time to present a season of works by the late German choreographer Pina Bausch.
The month-long World Cities 2012 season will feature 10 works inspired by countries that Bausch, who died in 2009, visited during her career.
Seven of the works exploring locations including India, Rome and Japan, will be receiving their UK premieres.
The series will be performed in London from 6 June to 9 July 2012.
The productions will be presented by Bausch's company, Tanztheater Wuppertal, as part of the Cultural Olympiad.
Six works will be shown at Sadler's Wells and four at the Barbican.
Bausch began the project in 1986, which was created at the invitation of specific cities around the world.
Living in each location for a period of time, the choreographer's company would then return to Wuppertal to create a new work inspired by their visit.
In a joint statement, Sadler's Wells and the Barbican said: "We are thrilled to be working together to realise World Cities, a hugely ambitious cultural event at a time when global attention will be focused on London.
"Pina Bausch's work is truly Olympian in quality and scale, and her legacy continues to influence the global artistic landscape."
Dominique Mercy and Robert Sturm, the co-artistic directors of Tanztheater Wuppertal, said the season was "an amazing and outstanding homage to Pina Bausch".
They added that it is "a great honour" to perform as part of the Olympic celebrations.
Bausch, whose work is credited with revolutionising the language of modern dance, died aged 68 in 2009, five days after being diagnosed with cancer.
Shortly before her death, Bausch began collaborating with director Wim Wenders on a documentary film, capturing the process of dance on film in 3D.
It will be released in the UK on 22 April 2011.