Nick Clegg defends BBC local radio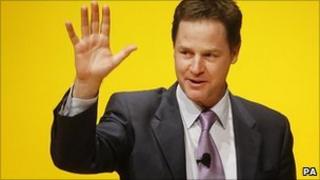 Deputy Prime Minister Nick Clegg has defended the future of BBC local radio, saying it is "unbelievably important".
Speaking on BBC Radio Sheffield, Mr Clegg was responding to reports that local radio programming could be cut back as part of the BBC's cost-saving.
"There's something authentic and real about local radio and that's something we should do everything to try and protect," he said.
A BBC spokesman said that "no decisions have been made".
The Daily Telegraph reported that plans to cut local programming with the exception of breakfast and drive time shows were being proposed as part of the BBC's Delivering Quality First review.
It has been tasked with finding savings following the six-year licence fee freeze.
The National Union of Journalists says the plans could lead to the loss of 700 jobs and the closure of some stations.
Shadow culture secretary Ivan Lewis has requested a meeting with BBC bosses to explore alternative cost-cutting options.
A BBC spokesman said: "No decisions have been made so it would be wrong to speculate.
"The Delivering Quality First sessions are designed to provoke discussion amongst staff about the way the BBC works and any decisions coming out of the process would be subject to approval by the BBC Trust."