Arts cuts on agenda at Oliviers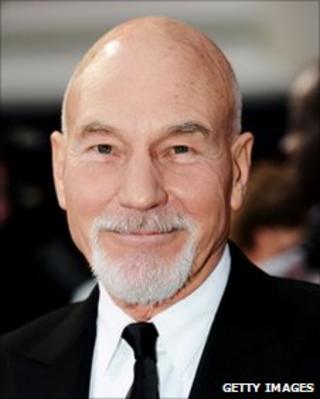 Sunday's Olivier Awards took place against a background of criticism of government funding cuts by some of the country's leading performers.
In a letter to the Observer, Dame Helen Mirren, David Tennant and others said public investment in the arts brought a "staggering" return for the country.
But Culture Secretary Jeremy Hunt has said national funding for the arts has fared better than many other areas of public spending.
Unsurprisingly, on the Oliviers red carpet the subject of arts cuts - especially regional budgets - was high on the agenda.
Sir Patrick Stewart told the BBC: "I stand in complete support of what was said in that letter. What happens on the stage and in the arts in general is often thought to be a sideline of English culture.
"It's not - it's absolutely central to many of the reasons why people visit the United Kingdom.
"Perhaps we've been spoiled a little bit, and take for granted the depth of talent that there is here. But rather than penny pinching it should be celebrated and supported as much as possible."
Lancashire-born actress Tracie Bennett, who was up for a best actress award for End of the Rainbow, said: "I trained in repertory theatre and without that kids like me don't get the opportunity to learn skills. It's a shame if that all goes for youngsters, so I hope the money comes in."
Her words were echoed by Jill Halfpenny, who won the best supporting role in a musical prize for Legally Blonde.
"It's massively important - it's where most of us gain our first experience and there's some fantastic work coming out of regional theatres. I really hope the cuts won't be too drastic.
"My very first job out of drama school was a tour with the Hull Truck company which got me an agent and six months of experience of touring round the country. I believe you have to have that type of experience to become a rounded actor... only then do you know if it's the right profession for you."
Tamsin Greig, who was up for a best actress in The Little Dog Laughed, said local theatre was vital to the vibrancy of the theatrical world.
"A lot of actors cut their teeth in regional theatres. It's not just about actors and directors and crews. It's about audiences.
"It's a long way from the National Theatre for a lot of people. What a shame if we lose the high class theatre going on in the provinces."
Canadian actress Sarah Goldberg, who appears in West End racial satire Clybourne Park, said she had been "amazed" by the level of theatre funding when she moved to the UK.
"Where I grew up it's just not comparable," she told the BBC. "With all the cuts going on it's made me sad because I want theatre to be able to do shows that don't necessarily need to be profitable, so we are all a little bit tense about it."
Anne-Marie Duff, who is in rehearsals for Terence Rattigan's Cause Celebre at the Old Vic, said subsidised theatre had an important role to play - especially outside London.
"A theatre like West Yorkshire Playhouse, for example, is vital," she said. "Story-telling is medicine for the soul. It's part of our make-up and it's a grand tragedy when you hear what's happening, but there are cuts in every walk of life at the moment."
She described theatre awards like the Oliviers as "fluff", but said they raised important awareness of drama.
"I grew up in a family where we didn't go to the theatre all the time - there wasn't the finance. I would watch the Olivier Awards. I heard about plays and would go away and read them - so there are ripples."