Stars including Walliams to voice Tate Movie Project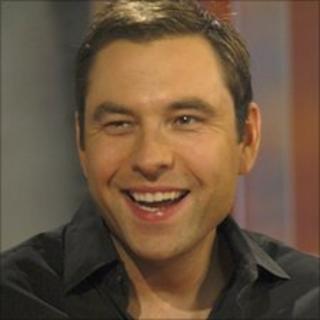 David Walliams and Miranda Hart are among the celebrities lending their voices to a new children's film.
The characters in The Itch of the Golden Nit have been created by children as part of the The Tate Movie Project.
Thousands of their drawings, sound effects and story ideas have been combined.
They will be brought to life by Wallace and Gromit producers Aardman Animations.
Catherine Tate, Harry Enfield and Rik Mayall have also voiced characters along with Ralf Little, Sanjeev Bhaskar, Miriam Margolyes and Vic Reeves.
The project held workshops at galleries, schools and festivals and allowed children to upload their drawings online.
The Golden Nit character was invented by 13-year-old Sarah from Swansea and was inspired by her cat getting fleas. It will be voiced by Walliams.
The story follows 11-year-old hero Beanie on his mission to save his parents from Evil Stella and to return the Golden Nit to its rightful place at the heart of the sun, thereby saving the universe.
The film is part of the London 2012 Cultural Olympiad and will be broadcast on the BBC this summer as well as at galleries, cinemas and on London 2012 big screens.
There will also be a red carpet premiere for the film in London's Leicester Square in June.