Reviews: In a Forest, Dark and Deep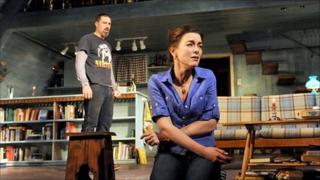 American actor Matthew Fox, the star of US TV series Lost, has made his UK theatre debut opposite British actress Olivia Williams in the world premiere of Neil LaBute's new play - In a Forest, Dark and Deep.
The production, directed by LaBute, opened at the Vaudeville Theatre on Monday.
Set in a woodland cabin on a dark and stormy night, the play is described as "a dark comedy of sibling rivalry" that turns psychological thriller.
LaBute's other work as a playwright includes In the Company of Men and Fat Pig.
But what did the critics make of In a Forest, Dark and Deep?
The Guardian - Michael Billington
Matthew Fox, best known for his appearance in the TV series Lost, is ferociously good as Bobby. With his sharp crew-cut and trim beard, he bears an odd resemblance to the playwright David Mamet. And he's almost like a Mamet character in his blend of tough, blue-collar virility with sudden bursts of emotional sensitivity...
Olivia Williams also shifts admirably from abrasive snootiness to desperate neediness; and, although Betty regards truth as something to be avoided, Williams has the priceless ability to let us see exactly what is going on under the character's adopted masks.
Read the full review here
The Stage - Jeremy Austen
While the plot develops at a natural pace and takes some interesting twists and turns, LaBute is emoting by numbers - set up relationship here, introduce 'inciting incident' here, drop the bombshell here, curtain. It all feels a little lazy and predictable. Betty at one point suggests Bobby is like Colombo, but it wouldn't take the trench-coated gumshoe to see the final revelation coming.
As the siblings, Matthew Fox and Olivia Williams do find the intensity that exists between two people who are so very close. They create an uncomfortable atmosphere that rescues the play on a superficial level. Certainly, on that level it works well as a two-hander and never lags. It just feels empty.
Read the full review here
The Independent - Paul Taylor
If the Pinter universe largely boils down to a division between the bullies and the bullied, the population of Planet LaBute is segregated into pens marked "manipulators" and "manipulated". For reasons that it would be unfair to disclose, Betty is both.
But where you feel the author knows Bobby from the inside, Betty proves to be just a clutch of clichés about the ageing female beauty that wind up seeming as embarrassing as the schlock thunder-and-lightning that cause convenient power cuts in the A-frame cabin, without generating any bona fide tension.
This forest is dark, but it is not all that deep.
Read the full review here
The Arts Desk - Sam Marlowe
The structure of the piece is akin to that of a Hollywood thriller, and LaBute piles on the creepy clichés with glee: the cracks of thunder, the flickering lights, the teasing clues and sudden reversals of audience expectation...
Brother and sister are also a pair of lost children, like Hansel and Gretel, and though LaBute does his best to keep you guessing as to which of them is more wicked witch, it's soon pretty obvious which turn the tale is going to take. It begins to feel worryingly as if the play is little more than a series of gratuitous, if neatly deployed, shock tactics.
Read the full review here
What's On Stage - Michael Coveney
The play moves on stealthily through thunder and lightning, knowing exchanges about the relative merits of U2 and Pearl Jam, and some good, unsettling gags that test our liberal, knee-jerk responses to issues of colour and sexuality.
I've always liked the way LaBute messes with PC tolerance, but it's quite an easy trope if you're looking for controversy in the theatre. We may be coming through a post-Clybourne Park era where this kind of writing doesn't look quite as daring as it once did. But it's good to have LaBute back in the West End, mixing it all up a bit.
Read the full review here