Congo musicians take the world by storm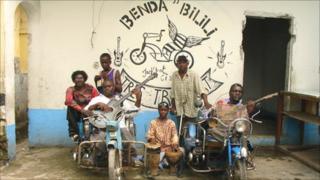 It's the sound of Congolese rumba, tribal rhythms, James Brown funk, Cuban mambo and a bit of Jimi Hendrix thrown in for good measure.
But if the sound of Benda Bilili is unique, so is their look. They're a group of paraplegics who live in the slums of Kinshasa, in the Democratic Republic of Congo.
However, the power of their music has now taken them all over the world - and to the top of the World Music Charts, where Benda Bilili's album, Tres Tres Fort is currently number one.
To add to it, they're the subject of a documentary, out this week, made by two Parisian film-makers, Renaud Barret and Florent De La Tullaye, who "discovered" them on the streets five years ago.
"We didn't decide to make a movie about them, we met them by chance," explains Renaud Barret.
"We were in Kinshasa in 2005, making another film, and we just heard this noise in the street.
"It was like crazy blues coming from nowhere, and as we approached, we found the band. There were a bunch of street kids dancing around them and the music was brilliant.
"We stayed till the early hours, drinking the local liquor with them, listening to their music. What struck us was they were not a covers band, and when people started translating their lyrics for us, from their native Lingala language, we were moved and touched. By the time we left, we had a crush."
The crush quickly turned into love, with the directors returning with cameras to start filming the very next day.
"In a way, it was an emergency," adds De La Tullaye. "We understood that life on those streets is really tough, and we had to work quickly."
However, after a lifetime on the streets, the band members of Staff Benda Bilili, to give them their full name, were not about to disappear anywhere.
The leader of the band is Ricky, who apart from a prolific love life (he has two regular "spouses") keeps himself alive by selling cigarettes from his customised tricycle, and keeps the group alive by sheer force of personality.
"It was Ricky who realised the potential of being filmed and gave us full access to the band," says Barret.
"He joked to us that he was going to be the most famous disabled man in Africa, and now he's on stage around the world and he has made that dream come true.
"They were all so far-sighted about the project, and they kept us going, kept us believing in it. It's just as well they did, because we thought making the film would take six months and it's taken five years instead."
It's definitely not a conventional band biography; from guitar player Coco, the father of seven children who take it in turns to go to school each day; to choreographer Junana, who dances on his hands as his legs were rendered useless by polio.
Roger, the youngest, was found aged 13 on the streets and protected by Ricky.
It turns out Ricky does a lot of protecting, with De La Tullaye calling him "The King of the Street".
"He is so powerful and so respected, it is paradoxical when you think of his condition. The whole band are like fathers of the streets of Kinshasa, they look after all these street kids, because they themselves have done some crazy things in order to survive. And they protected us and our work, from pickpockets and from gangs."
Kinshasa, with a population of more than 10m people, is the capital of one of the most wounded countries in the world.
The Democratic Republic of Congo has been ripped apart by civil war, and daily life in the slums of Kinshasa is one of endemic poverty. According to Barret, that is not a side of life which the film Benda Bilili dwells on.
"They themselves are so humorous. The band make fun of themselves and laugh at their condition, and living in the streets with no money.
"They liked us as we told them right away we weren't trying to make a typical film showing the misery of living there. And at the same time we warned them that we didn't have a magic wand to make things happen for them."
Perhaps no easy magic - but there's still been an enchanted ending for this extraordinary band. Around the same time as the film found a buyer, they managed to release their first album, Tres Tres Fort.
Appearances at Womad and Glastonbury followed, and now with the album at the top of the World Music Charts, they are touring all across Europe. Because of the album's success, they will now all have a home in Kinshasa.
"Our music allows us to travel," says Ricky, "and to discover all sorts of things - especially cold weather.
"You know that Staff Benda Bilili, in Lingala, means 'beyond appearances'. It's a message of hope. We want the whole world to understand that anything is possible if you want it bad enough and are willing to work for it."
Benda Bilili opens in the UK on 18 March.