Spending cuts: Theatre groups add their voice to debate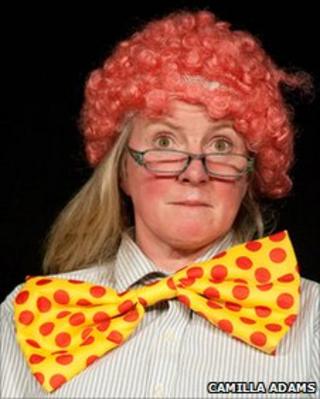 Theatre groups from across the country will unite this weekend to highlight the potential impact of spending cuts.
Eight playwrights, including Mark Ravenhill, have donated short plays that are being performed in venues from Edinburgh to Exeter.
Some 80 groups are staging the works in theatres, pubs, libraries and private houses as part of Theatre Uncut.
"It's extraordinary that so many people have come together on this," said artistic director Hannah Price.
The plays will be performed across the country on Saturday to coincide with a flagship event taking place at the Southwark Playhouse. Many shows will be linked up via Skype and Twitter.
Among those taking part are the Sheffield Crucible, Northampton's Royal and Derngate and Edinburgh's Bedlam Theatre. Other groups include several Oxford University colleges.
There are also shows taking place in New York and Chicago.
Hannah Price had the idea for Theatre Uncut during the Spending Review announcements in October.
"I was very angry and the next day I e-mailed lots of theatre people and said we should be using theatre to add our voices to what was already out there," she said.
"The first person to respond was Mark Ravenhill who offered to write something. Having Mark on board helped get other writers involved."
Eight dramatists were commissioned to write a play responding to the cuts. The plays, each lasting no longer than 20 minutes, were made available for theatre groups to download for free.
"We've been overwhelmed by how many people have decided to stage their own version," said Ms Price. "It's taking place in theatres, people's living rooms and pubs - we've got an over-65s amateur dramatics group doing it in their town hall."
She added: "We don't want to exclude people from doing it anywhere, I'm happy if someone reads it to themselves."
Theatre Uncut aims to highlight the impact of funding cuts on wider society, not just within the arts.
Mark Ravenhill's play, A Bigger Banner, focuses on the recent student protests.
The playwright said: "I've written a play about student protesters that will actually be performed by a lot of student protesters."
His drama sees students who are occupying their university building "summon the ghosts" of students from the 1950s.
Ravenhill told the BBC: "I thought it would be interesting to put together a couple of students from now with a couple of students from then for whom future possibilities were optimistic."
He hoped that each play would bring together "disparate groups of people and get them talking and maybe renew some sense that theatre can actually be part of a bigger debate".
Other plays - by writers such as Jack Thorne, Dennis Kelly, David Greig and Lucy Kirkwood - focus on the welfare state and healthcare.
"Obviously I care deeply about cuts in the arts," said Price, "but I think its even more important to lend the voice of the theatre and say that we do care about the wider issues.
"It's important that we respond to all of them - not just our own little area."
Theatre Uncut takes place from 16-19 March with proceeds from ticket sales going to the Child Poverty Action Group.