No stopping Limitless at US cinemas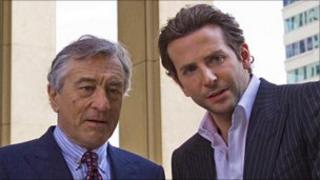 Sci-fi thriller Limitless has topped the North American film chart as box office takings continue to suffer compared with last year.
The film, starring Bradley Cooper as a writer who takes a pill to maximise his brain power, took $19m (£11.7m) in its first weekend, according to estimates.
Comedy Rango was second ahead of last week's number one, Battle: Los Angeles.
It is the fourth weekend running that overall box office takings have been down compared with last year.
Animated Western Rango, featuring the voice of Johnny Depp, took $15.3m (£9.4m) in its third weekend while alien invasion film Battle: Los Angeles took $14.6m (£9m).
The Lincoln Lawyer, a thriller starring Matthew McConaughey as a defence lawyer in a high-profile case, opened in fourth, with $13.4m (£8.3m).
Alien road trip film Paul, written by and starring British actors Simon Pegg and Nick Frost, opened in fifth, taking $13.2m (£8.1m).
Paul Dergarabedian, of box office tracker Hollywood.com, said: "The first quarter of 2011 has been one we'd like to forget with comparisons to last year making things tough, week after week."