BBC reworks Wuthering Heights with swearing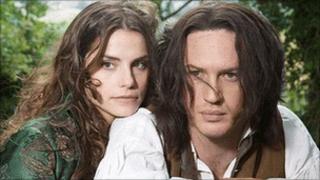 A contemporary adaptation of Emily Bronte's 1847 classic Wuthering Heights is to air on BBC Radio 3 on Sunday - complete with swear words.
Playwright Jonathan Holloway said he had introduced expletives into the tempestuous tale of romance "to shift the production to left field".
He said he wanted to "capture the shock" of the book's original release.
The BBC said it had used swearing to portray the "extremity of the lives" of Cathy, Heathcliff and other characters.
A warning over its content will be broadcast at the beginning of the drama.
Holloway describes Wuthering Heights as "a story of violent obsession and a tortuous unfulfilled relationship".
"That's what I wanted to elbow out, this idea that it's the cosy greatest love story ever told," he told the Radio Times. "It's not."
Andrew McCarthy, director of the Bronte Parsonage Museum, said some words in the original text of Wuthering Heights had been crossed out because they were "too strong".
It was the only novel written by Emily Bronte, who died in 1848, a year after its publication.
Laurence Olivier and Merle Oberon played Heathcliff and Cathy in a 1939 film version, while Tom Hardy appeared in an ITV1 adaptation in 2009.
Another film version, directed by Andrea Arnold, is due out in September, with Skins' Kaya Scodelario in the Cathy role.
Wuthering Heights will be broadcast on BBC Radio 3 at 2000 GMT on 27 March.