Daniel Radcliffe makes Broadway musical debut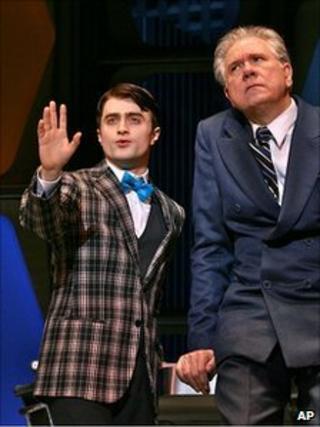 Harry Potter actor Daniel Radcliffe has made his much-awaited debut in a Broadway musical in which he dances on stage for the very first time.
Opening night went off without a hitch for the 21-year-old actor who has the leading role in a revival of the 1961 Broadway musical How to Succeed in Business Without Really Trying.
Radcliffe plays the role of J Pierrepont Finch in the musical - a young man who is an ambitious corporate climber.
"It was a great crowd, we did a good show, I think people left happy," the star said after his first show.
The actor has been on the Broadway stage before in 2008 in the British play Equus - but in the musical he breaks new ground.
It is a triple challenge: not only does he dance but he sings - and speaks with an American accent.
The actor said there is no point in doing anything by halves: "Personally I find it a lot more interesting to do something which will take me a long time to prepare for, and I did a lot of preparation particularly in the dancing and singing for this show.
"I find that a lot more fun when it's more of a challenge. It would be too easy to take the kind of easy ride."
Mixed reviews
Radcliffe was well received by the opening night crowd, which included musical theatre legend Liza Minnelli who said: "That kid can dance. He's a really good performer and you buy him completely as this character."
Some reviewers also praised Radcliffe but America's most influential theatre critic, Ben Brantley of the New York Times, was not overwhelmed.
He wrote that "while Mr Radcliffe is clearly not to the musical manner born, I would give him, oh, a six out of 10".
For 10 years Daniel Radcliffe has been the most famous face of the Harry Potter film series which comes to an end in July when the final installment will be released.
Adam Feldman, theatre critic for Time Out New York, believes the actor's move into a big Broadway musical is career strategy.
"The goal of this project is to redefine himself in as many different ways as possible - break people's assumptions about what it is that he can and can't do," he says.
But Radcliffe maintains that he is not trying to reinvent himself.
"I just want to keep working - I'm not really concerned with the public perception of me," he said.
"The only way I will do anything to counteract the people that do see me as Harry, is to keep working and doing this kind of stuff, so it's not a part of a master plan but just one job at a time."
'Worked so hard'
His character's role has given the actor the opportunity to ponder his own professional goals.
"I'm ambitious for myself and I want to definitely beat a path towards continued success," he says.
"I certainly don't think I would ever let my ambition override my morality, which is what my character in the show does."
The affable young star has impressed his Broadway colleagues with his commitment.
Rob Ashford, the musical's director and choreographer said "he's been dedicated".
"He's worked so hard - particularly on the dancing - and has triumphed," he added.
Radliffe will take a few days off from the show to promote the final Harry Potter film in July.
Other than that, he is committed to doing the New York musical for eight performances a week, into early next year.