Arcade Fire win quartet of Junos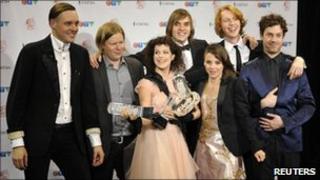 Canadian rockers Arcade Fire have won four prizes at the Junos this weekend as Canada's leading music awards event celebrated its 40th anniversary.
The Montreal-based outfit were named group of the year and won album of the year for their third disc The Suburbs.
The band - who had been nominated in five categories - also won songwriter of the year and best alternative album.
"We're truly overwhelmed," said band member Richard Reed Parry at the gala, held in Toronto on Sunday night.
Arcade Fire won two Brit awards in January and were further feted in February at the Grammys, where The Suburbs was named album of the year.
Canadian teen sensation Justin Bieber received a brace of Junos, winning pop album of the year and a fan choice award.
"I want to thank everybody so much for believing in me," said the 17-year-old video message.
"Most of all, I want to thank my mom for raising me in Canada."
Bieber's fortunes contrasted with those of Toronto native Drake, who had led the field this year with six nominations.
Despite hosting the event, however, the 24-year-old rapper went home empty-handed.
Elsewhere, veteran artist Neil Young was named artist of the year and received two additional prizes.
"It's just totally incomprehensible that I'm here," the 65-year-old told the audience. "But it's a great honour- I really appreciate it."
The evening also saw country star Shania Twain inducted into the Canadian Music Hall of Fame.
"This is just a very beautiful moment for me," said the 45-year-old Ontarian. "I'm really so proud of Canada's talent."