Jennifer Aniston to direct breast cancer film for US TV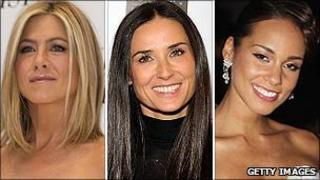 Jennifer Aniston, Demi Moore and singer Alicia Keys are to direct short films about breast cancer, due to be aired on US cable network Lifetime.
Their work will be featured in Project Five, a collection of short films that will show the effects of the illness on women's relationships.
Patty Jenkins, who made the 2003 film Monster, will direct the fourth film, with a fifth director to be announced.
Both Aniston and Moore have previously directed short films.
Friends co-creator Marta Kauffman is overseeing the project, to air on Lifetime later this year.
The channel made headlines recently by airing a film about Amanda Knox, the US student jailed in Italy for the 2007 killing of Meredith Kercher.
Next month the broadcaster will air a film about Prince William's courtship of Kate Middleton.