Sian Williams opts out of BBC Breakfast move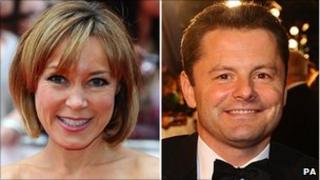 BBC Breakfast presenter Sian Williams will not move north with the programme when it relocates to its new base in Salford, the corporation has confirmed.
She and presenter Chris Hollins have decided not to take part in the move for "personal reasons", the BBC said.
Williams said she had been "privileged to spend the past decade on the sofa as the viewers' representative".
Both Bill Turnbull and Susanna Reid will stay on after the move to the BBC's new northern headquarters.
Turnbull said the move would be a "challenge" but said he was "confident the programme can be as successful in its new home as it has been for the past few years in Television Centre".
"Sadly, family reasons mean I can't move to Salford with the programme next year," Williams went on.
"My son will be in the middle of A-level exams, another will have just started school and our family also needs to be close to elderly parents in the South East."
Her role as "viewers' representative", the 46-year-old said, had given her the opportunity to ask "the questions they want answered, whether it's to the Prime Minister or a Hollywood film star".
"I'm looking forward to using those skills in fresh challenges elsewhere in the BBC."
More than half of the Breakfast team are to leave their jobs rather than move to Salford in April 2012.
Programme editor Alison Ford said it was "great news" that 46% of the team would relocate.
"We always knew there would be those who wouldn't be able to make the move for domestic reasons," she added.
"But we'll have a really strong line-up of producers and presenters working together in MediaCity."
Helen Boaden, director of BBC News, said she was "delighted that so many staff have decided to make the journey".
"I am sure it will go from strength to strength in its new home."
The BBC announced last July that its flagship early morning breakfast show would be broadcast from the MediaCityUK complex from next year.
Boaden said the move was "another important step in marking the BBC's commitment to expand its presence beyond London".
According to the corporation, both Williams and Hollins would "continue to be involved in the programme for the foreseeable future".
Sports reporter Hollins said he had "reluctantly" said no to the move, also citing family reasons.
"Sian Williams has been key to the success of Breakfast over the past decade," said a BBC News spokesman.
"Although we are sorry she cannot make the move, we respect her reasons and she will continue to be a very important member of BBC News' top team of presenters."