The Mail and the Express get in on the wedding act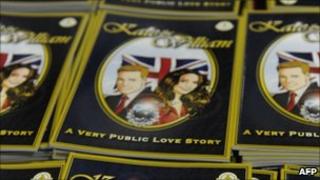 Today's media industry news ranges from the possible merger of two tabloids to the predicted TV ratings of another merger - the marriage of Prince William and Kate Middleton.
Sky News business editor Mark Kleinman blogs that the owners of the Daily Express and the Daily Mail have held informal talks about a potential merger. He says Richard Desmond, the chairman of the Express owner, Northern & Shell, and Lord Rothermere, chairman of Daily Mail & General Trust (DMGT), discussed the idea earlier this year. Sources close to DMGT told him that further talks may be held within the next few weeks, although there are "no concrete negotiations" underway.
The forthcoming royal wedding will be the most televised in history, with a potential two billion viewers across the world, says the Guardian. An estimated 8,000 TV and radio journalists and technical staff from around the world will be descending on the capital.
Ten years after the Financial Times introduced subscription charges for its online content, it has 210,000 digital subscribers paying a minimum of £250 for a year's access to the title's website and apps. "For a publication that circulates roughly 400,000 in print, that's a big number" FT.com managing director Rob Grimshaw tells the Independent.
Wayne Rooney could escape a ban from playing despite his "disgusting... foul-mouthed tirade" on live television which was seen by thousands of children, says the Daily Mail. The England striker used the F-word twice in a "snarling" rant at a TV camera after completing a hat-trick for Manchester United in Saturday's game against West Ham.
The Daily Sport and Sunday Sport face closure, after their parent company ceased trading on Friday and called in administrators. The Guardian says Sports Media Group, believed to have about 100 staff, is appointing an administrator which will seek to sell, or close, the operation. If no buyer is found, it will be the first closure of a UK national newspaper since News International folded midmarket tabloid Today in November 1995.
The murder of Constable Ronan Kerr in Omagh on Saturday, blamed on dissident republicans, brings unwelcome memories for several of the papers, as featured in the BBC newspapers review.