Katherine Kelly to leave Coronation Street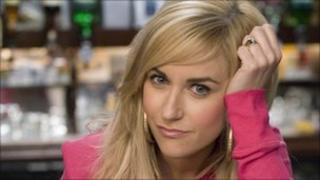 Katherine Kelly, who plays Becky McDonald in ITV1's Coronation Street, is to leave the soap opera early next year.
Kelly joined the show five years ago on a short-term contract as an ex-cellmate of Kelly Crabtree but was soon signed up on a more permanent basis.
"It's been one of the hardest decisions of my life," said Kelly.
Producer Phil Collinson said the last few months of Kelly's contract would feature "gripping storylines."
'Right time'
"Katherine is a talented actress who has made the character of Becky a firm favourite with the viewers... and we will miss her as an actress and a valued member of the Coronation Street family," he said.
Since joining the soap in February 2006, Becky has been seen getting in and out of trouble with the police, has married the same man twice, looted the corner shop as people lay dying after a tram crash and bought her nephew Max from her sister.
"I love Coronation Street and everyone here," said Kelly.
"I have had the most blissful five years. I wouldn't change one moment of it - but it feels like the time is right to say goodbye to Becky."
The soap celebrated its 50th birthday last year.