Panorama Gaza film had 'due accuracy'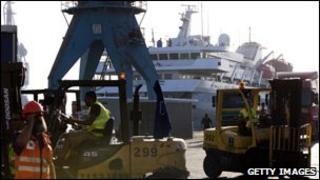 A Panorama programme about the Israeli raid on a Gaza-bound aid ship was made with "due impartiality and due accuracy", the BBC Trust has ruled.
Following 2,000 calls to the BBC, the trust considered points raised by 19 people who complained about Panorama: Death in the Med, screened in August.
Of 51 points made, it upheld two on accuracy and one on impartiality.
Nine activists on board the Mavi Marmara were killed and nine Israeli soldiers were injured.
The ship was part of a flotilla attempting to break Israel's naval blockade of Gaza.
More than 50 passengers were also injured.
The trust's editorial standards committee ruled that, in the absence of clear video footage of anyone being shot, inclusion of material from preliminary autopsy reports would have given "a broader picture and added to the programme's description of how the activists died".
As this was not included, the committee found the programme had breached the BBC's editorial guidelines on accuracy.
'Tons of aid'
It said programme makers had further breached guidelines on accuracy in its description of some of the aid on board the flotilla.
In the documentary, some of the aid was "accurately described" as containing "mobility scooters, hospital beds and medicines, two-thirds of which the reporter said she had found to be out of date", the trust said.
It added that "the facts show that this was just a tiny proportion of a consignment which had consisted of thousands of tons of aid, including large quantities of much-needed building materials".
As such, the committee concluded that the programme was not clear and precise in its presentation of the full extent of the aid on board the flotilla.
And it found that imagery used and the accompanying script line, "the Israelis evacuated the badly wounded to hospital", would have left viewers with the impression that they were promptly and appropriately cared for.
As the documentary did not reflect allegations, by some of the casualties, of mistreatment, it breached editorial guidelines on impartiality.
In a statement BBC News welcomed the trust's findings "that the film achieved due impartiality and due accuracy and did not uphold the complaint overall".
It said it would "consider seriously any lessons to be learned" from the three upheld complaints.
It added: "We note that the trust also remarked it is unlikely that a current affairs programme such as this, covering such a contentious issue, would be found to be entirely flawless if it were subjected to the level of deconstruction and analysis that Death in the Med has undergone."