Danger Mouse finds inspiration in Rome for new album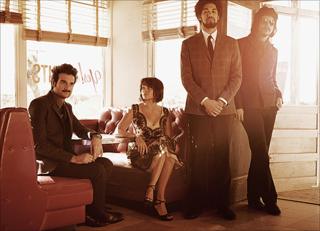 Brian Burton, better known to his fans under his stage moniker Danger Mouse, talks about his ambitious collaborative new project Rome, which includes input from Norah Jones and Jack White.
Brian Burton looks dog-tired after his second day in the UK promoting his latest musical project Rome.
But after a few hearty swigs on a caffeine-saturated drink, this imposing afro-haired and sharp-suited super-producer is ready to talk.
The record, a collaboration with the equally suited and booted Italian composer Daniele Luppi and singers Jack White and Norah Jones, is inspired by Burton and Luppi's shared love of the iconic sounds of the "spaghetti westerns" of the 1960s.
The ambitious project reunites musicians from those famous Ennio Morricone soundtracks for films including For A Few Dollars More and The Good, The Bad and the Ugly.
Recorded live in Rome's Forum studios using vintage instruments and mixed on analogue tape, it is little wonder the album has been more than five years in the making.
"We started talking about it in 2004 and writing it in 2005. We recorded throughout 2006 and 2007 and finished mixing in 2009. It could have come out last year but it just wasn't the right time," explains Burton.
"The delay was a luxury we didn't mind having," adds Luppi - known for his work on several films and TV shows like Sex And the City.
Still, the pair admit the lengthy process was nevertheless intimidating, particularly as many of the musicians, which include Alessandro Alessandroni's Cantori Moderni choir and Italian soprano Edda Dell'Orso, are in their 70s and haven't played together in decades.
"It's kind of overwhelming if you think of the details, so you don't, you just do it," says Burton. "We didn't have the instruments, we knew some of the players, we had the studio on hold, we had sheet music ready for them to play.
"Getting the players was the fun part, the easy part," says Luppi.
"I knew a few of them them and it gave me the credibility to call another of the guys and say: 'Oh, such and such is going to perform so you can trust me.'
"Once they figured out they were going to get together again after decades, they couldn't wait to do it."
The involvement of singers Jack White and Norah Jones came later.
"We didn't know who was going to sing on the album," says Burton. "We used the music that we finished as bait. It was like currency in its own way.
"But it wasn't like they were high-paid, hired guns."
Which is just as well considering Rome has been funded, largely, by Burton himself.
A vanity project? Perhaps, but the result is a lush, sweeping epic record and an almost defiantly uncommercial work from a man still best known as one half of chart-topping act Gnarls Barkley.
It was, he says, an experience made more expensive by the decision to record the album in a traditional way without the use of computer programmes.
He explains: "You kind of understand why people don't make these records. It was a long journey and also expensive. It's cost-prohibitive but if we had done it differently it wouldn't have sounded the same.
"Everybody involved was doing it for the right reasons. The big money wasn't spent on Norah and Jack - there were just a lot of costs, like, you have to get a guy to come in and tune the harpsichord every day or calibrate the tape machine and you have to do it - it just adds up."
But Burton is quick to defend his choices from any suggestion that they were made purely on a whim or to make a "cool" retro recording.
"We chose the recording techniques based on what we felt would make the record sound the way we wanted it, not so we could tell everybody we did it the old school way. Anyone with a little bit of money and time can do that".
Avoiding what would have been an ironic twist, the album will also see the light of day in its intended vinyl format, thanks to White's Nashville-based label, Third Man Records.
"It sounds amazing on vinyl, it really does," says Burton. "I've always thought it takes a certain kind of ear to tell the difference between a CD and vinyl but I've never heard a record sound so different.
"Sometimes modern music that gets released on vinyl, I think it's a vanity thing because its a 'cool' thing but it doesn't sound as good."
The album is scheduled for release in May and plans to try to play it live is "in the works".
"We're trying to figure out a way," says Burton. "It's a case of calling everyone up again and asking. And we're doing that, yeah."
Nodding in agreement, Luppi seems able to sum up the recording ethos behind the entire project, adding: "Everything has to be top notch or why would we do it?"
Rome is due for release in the UK on 16 May.