Broadcaster BSkyB's finances in good shape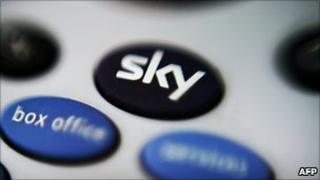 Among my picks of Thursday's big media industry stories is the strong financial figures from BSkyB.
Broadcaster BSkyB has announced this morning that its revenues for the past nine months rose by 14% to £4.8bn as its services expanded reports the BBC. The average price paid by its 10.1 million customers has risen from £503 to £544 a year. Approval for a bid for the company by Rupert Murdoch's News Corp is currently being considered by the government. News Corp has promised to make BSkyB's Sky News an independent company in order to avert a full-blown regulatory investigation by the Competition Commission.
George Entwistle has been appointed to one of the most senior jobs at the BBC, director of BBC Vision, reports the Guardian. It follows the departure of Jana Bennett to the BBC's commercial arm BBC Worldwide. The paper says he will be paid £270,000 and becomes one of the key internal contenders to eventually succeed Mark Thompson as director general. He will oversee more than 20,000 hours of TV programmes.
BBC One has too many male detectives in its drama series, according to the channel's new controller, reports the Daily Telegraph. Danny Cohen was explaining his decision not to recommission the detective series Zen - set in Rome and starring Rufus Sewell as the Italian police detective Aurelio Zen - after just three episodes. He also told the Broadcasting Press Guild there was "more work to do" in getting better lead roles on TV for women.
On the eve of the royal wedding, final preparations and a growing row over the guest list fill many of the papers. The Daily Mail says there is "fury" that the Syrian ambassador has been invited when the Syrian regime is slaughtering hundreds of its people, as reported in the BBC's newspaper review.