Home Alone mansion on sale for $2.4m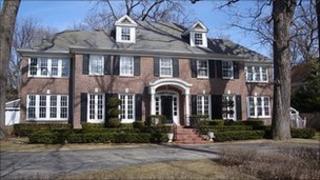 A house in the Chicago suburbs, made famous in the hit 1990 movie Home Alone, has gone on sale for $2.4m (£1.47m) in the US.
The four bedroom Georgian home provided the setting where eight-year-old Kevin McCallister, played by Macauley Culkin, outwitted a pair of bungling burglers.
The film earned more than $477m (£291m) at the box office and spawned a number of sequels.
Owners John and Cynthia Abendshien lived in the house during filming.
They said they had been approached by producer John Hughes' company about using their property in Winnetka, Illinois as a set for his previous film Uncle Buck, but had refused.
When a location scout returned 18 months later for Home Alone, they agreed to turn their 1920s built home into a movie set.
Mr Abendshien described the film's child star Culkin as "a nice, but quiet young boy".
The film was directed by Christopher Columbus, who went on to direct two of the Harry Potter films and Percy Jackson & the Lightning Thief.
Producer Hughes - a prolific director in the 1980s - died of a heart attack two years ago.