Nick Frost eyes up non-comedy roles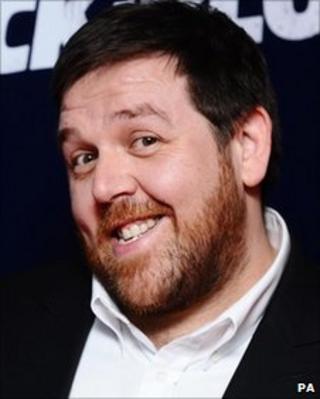 Actor Nick Frost is keen to take on roles that take him out of his comedy comfort zone.
The star of Shaun of the Dead and TV series Spaced told the BBC that he is keen to play historical figures, and has a secret project in the pipeline.
He said: "I've always been funny as a kid, so it's not a challenge to me to be funny. The other stuff is difficult, so I like to challenge myself."
Frost is back in cinemas next week in Attack The Block.
The 39-year-old actor, who plays a slacker drug dealer in the film, said he had enjoyed his lead role in last year's BBC TV adaptation of the Martin Amis novel, Money.
Frost played John Self, a British director of commercials, who is thrust into the world of New York movie deals.
"That's my favourite of everything I've done," said Frost. "We're trying to work on something similar, but I can't say any more."
3D detective
Frost is a regular collaborator with Simon Pegg - their last two movies together were Hot Fuzz (2007) and this year's sci-fi caper Paul.
Could Frost ever see himself in an adaptation of Shakespeare or Chekhov?
"Yes, absolutely," said Frost. "I'm waiting for a Winston Churchill or a Henry VIII - I think you have to go with the physicality of your actor."
After a pause, he added: "I'm a bit too young for Churchill, but 20 more years and I'll be almost 60, and in ripe Churchill territory. And I could do the Bob Hoskins biopic in 20 years!"
Later this year Frost returns to the big screen in Steven Spielberg's 3D film, The Adventures of Tintin: Secret of the Unicorn.
Frost plays clumsy detective Thomson (alongside Pegg's Thompson) using the performance-capture system similar to that used in Avatar.
"It was terrifying because Peter Jackson and Steven Spielberg were there," Frost confided. "You had to bring the heat every day.
"It's on days like that you think you're going to get a tap on the shoulder and found out for being a charlatan."
The Tintin film is co-written by Joe Cornish, who wrote and directed alien invasion movie Attack The Block.