We Need To Talk About Kevin becomes the talk of Cannes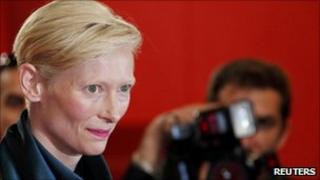 What do you do if you don't like your child - and he doesn't like you either?
It is not a topic that is generally up for public debate, but Tilda Swinton's latest movie - We Need To Talk About Kevin - has become very much the talk of this year's Cannes Film Festival.
The film, based on the best-selling book by Lionel Shriver, is written from the perspective of the mother of a teenage killer.
Eva, played by Swinton, is portrayed as a successful woman, who has everything - apart from a maternal bond with her son.
While he is pleasant and loving to his father, Kevin (Ezra Miller) and his mother are embroiled in a battle of wills which nearly destroys her marriage.
John C Reilly stars alongside Swinton as her husband and both actors immediately signed up to the movie.
But Swinton admits there were concerns about securing the funding because of the subject matter.
"The material is taboo status, the concept of a mother who doesn't like her son. But it was a gamble we had to take, and we took a chance on audiences liking it," she explains.
Eventually director Lynne Ramsay secured the money needed from BBC Films and the UK Film Council.
And so far, the hard work has paid off, as reviews have been positive with The Guardian calling it "superb" and The Daily Telegraph singling out Swinton's performance as "magnificent."
Nevertheless, the Academy Award-winning actress is only interested in getting as many people to see the movie as possible.
"We struggled to make a very little movie in terms of money. But by getting into Cannes, we have given it the best shop front in the world," she says.
With it being the only UK film this year in contention for the prestigious Palme D'Or prize competition, all eyes will be on how well the film does.
But director Lynne Ramsay is no stranger to winning awards at Cannes.
In 2002 the Scottish film-maker won the Cicae prize and the award of the youth for her movie, Movern Callar.
Ramsay says she was interested in the mother and son relationship because of witnessing so many strained parent and child relationships growing up in Glasgow.
"They lost their kids to crime or drugs and I saw that a mother's love could be stretched when they're stealing from you and abusing you, but you had to be there for them," she says.
"That's the thing, you either have, or you are expected to have, an unconditional love - even if you don't like your son or daughter. It's in the world, it's just people don't talk about it."
The film, she says, was "inspired" by the novel, which won the Orange Prize for Fiction in 2005, rather than being a faithful adaptation.
But both the book and film share the same quality, in which the powerful storyline leaves the audience questioning whether Kevin was born pure evil or was damaged by the relationship he had with his mother.
"We're not interested in giving people answers at all to the questions the film raises," says Swinton.
"What we are saying is basically the title of the film - 'We Need To Talk'.
"There's this fantasy that motherhood is this pink and fluffy business that's all hearts and Mother's Day cards. Actually, anyone who has a family at all will know that's not true. Families are bloody businesses. Mortality is a bloody business.
"The film looks at feelings, not facts. It's very much told from Eva's perspective as a mother, and the guilt and shame she feels, but it's a fantasy and a horror story, not a movie about social realism."
Swinton, whose other film credits include The Curious Case of Benjamin Button and Burn After Reading, says her character only became a mother once Kevin faces punishment.
"You see a woman bearing the guilt of her son's act. His violent actions are blamed on her, and we see that around us all the time," she explains.
"If a man commits an atrocity, often his mother is questioned. One of the first scenes in the movie is when Eva gets slapped in the face by a complete stranger. She bears his sins."
The Cannes Film Festival runs until the 22nd May 2011.