Manchester to test West End shows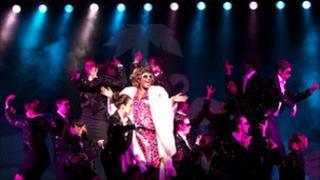 Manchester is to become the launch pad for some of the country's biggest new theatre shows before they move to the West End, it has been announced.
The Ambassador Theatre Group (ATG) said it would premiere "many high-profile productions" in the city.
The company, whose shows include Legally Blonde and Spamalot, recently staged Ghost the Musical in Manchester before its West End run.
ATG said the city had a "knowledgeable, sophisticated audience".
The company's joint chief executive Howard Panter said: "It's rare for a £6m musical like Ghost to premiere in Manchester, but I think it's just the start.
"If you can make it work in Manchester, it will work anywhere."
Mr Panter and his wife and co-chief executive Rosemary Squire were named the most powerful people in British theatre by The Stage newspaper earlier this year.
ATG owns 39 theatres around the UK, including Manchester's Opera House and Palace theatre.
Ghost the Musical, a stage version of the 1990 film starring Patrick Swayze and Demi Moore, recently finished a seven-week run at the Opera House before its transfer to the Piccadilly Theatre in London next month.
Ghost producer Colin Ingram said he had found Manchester to be "a terrific city to open a new musical".
"With a large catchment area and two wonderful musical theatres, we've been able to have two months to fit up and rehearse a very complex show, which could not have been done anywhere else outside London," he said.
"Manchester and the surrounding area has a long tradition of theatre-going and [audiences] are extremely warm and open to new work. The audience has greeted Ghost with open arms instead of closed arms."
ATG is not the only theatre company launching high-profile shows in Manchester.
In July, Batman Live, an arena show about the caped superhero, will receive its premiere in the city before going on a world tour.