BBC criticised over star salaries disclosure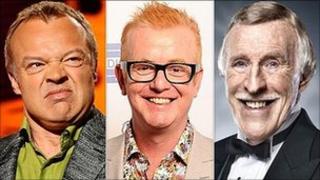 The BBC is dragging its heels on the issue of disclosing star salaries, a new parliamentary report has claimed.
The Culture, Media and Sport Committee said it was "disappointed that banded information on talent salaries is still not in the public domain".
Its report is also critical of how the licence fee settlement was agreed last year, saying the BBC and the government had had a "short, private negotiation".
In response, the BBC Trust said it did not underestimate the challenges ahead.
The committee's findings form part of a wide-ranging report into the BBC that coincides with the new chairman of the Trust, Lord Patten, taking up his post.
The report says the former cabinet minister, EU commissioner and governor of Hong Kong "has got a lot to get to grips with".
The committee said it was "essential" that arrangements be made for the National Audit Office (NAO) to make an independent assessment of how the BBC spends licence fee money.
It is also highly critical of the decision to hire executive Guy Bradshaw from the US to oversee its move to its new northern HQ at Salford Quays, near Manchester.
"The decision - particularly regrettable in the current climate - to appoint a change manager who had to commute from the United States cannot be dismissed as an inconsequential gaffe," it said.
The appointment, it states, opened the BBC up to "self-inflicted and predictable ridicule".
The BBC has defended the appointment saying it was "satisfied that Guy Bradshaw was fulfilling his duties as migration manager" and that "he continues to be an essential member of the team as the move to Salford Quays begins".
Other issues of concern include whether S4C, the Welsh language channel, will be able to retain its independence after the BBC agreed to fund it out of the licence fee.
It was "extraordinary", the committee went on, that "the government and the BBC should agree such wide-ranging changes without consultation or giving S4C any notice or say at all".
In its response, the BBC Trust said its "new financial reality" would involve "tough choices" and that it would "consult the public before any final decisions are taken".
Regarding the issue of star salaries, the Trust said it "is committed to greater transparency in the pay of the BBC's top talent, on and off screen".
It added that in January "we agreed plans to publish the BBC's talent spend in the CMS Select Committee's anonymous bands in the forthcoming annual report".
Last year's settlement secured the licence funding until 2017 but involved the BBC taking on a number of extra financial burdens, including fully funding the World Service.