BBC criticised for Salford executive's commute from US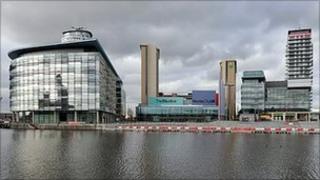 This round-up of today's main media stories reports on wide-ranging criticisms of the BBC by a committee of MPs.
MPs say the BBC has opened itself up to "self-inflicted and predictable ridicule" by hiring a key executive for its new Salford base who had to commute from his home in the US, reports the Guardian. Members of the Commons culture, media and sport select committee warned Lord Patten, the new chairman of the BBC Trust, that he had a "lot to get to grips with".
The "shotgun marriage" between the BBC and S4C should come to an end if the independence of the Welsh broadcaster is threatened, a group of MPs will claim today, reports WalesOnline. The Culture, Media and Sport Select Committee described the arrangements for the BBC to provide the vast majority of S4C's funding as "extraordinary" and "awkward".
The BBC is dragging its heels on the issue of disclosing star salaries, a new parliamentary report has claimed. BBC News reports that the Culture, Media and Sport Committee said it was "disappointed that banded information on talent salaries is still not in the public domain".
Eric Schmidt, Google's executive chairman, has warned lawmakers in Europe not to pass "foolish" laws that would make the search engine's services illegal, reports the Financial Times. Speaking in the UK, he said well-intended regulation of online personal data could have "unintended consequences" that make it impossible for internet companies to do business legally.
Images of Dominique Strauss-Kahn, unshaven and in handcuffs, were broadcast all over the world - except in France, where one of Strauss-Kahn's lawyers threatened legal action against channels broadcasting them, reports Angelique Chrisafis in the Guardian. She says the French media have been accused, chiefly by the US press, of cowardly observing a "code of silence" over politicians' private lives: "The chasm between the US and French media was clear in a row over images of Strauss-Kahn since his arrest. The CSA, the government's media watchdog, warned to use 'the greatest restraint' in broadcasting them because the French law on presumption of innocence does not allow suspects to be shown in handcuffs."
A number of papers lead with Ken Clarke's apparent suggestion in a Radio 5 Live interview that some rapes are more serious than others, as reported in the BBC's newspapers review.