Pirates of the Caribbean sequel tops US box office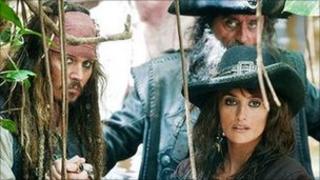 The new Pirates of the Caribbean film had the biggest opening weekend of the year in the US and Canada, taking $90.1m (£55.6m), estimates suggest.
On Stranger Tides, the fourth film in the franchise, stars Johnny Depp, Penelope Cruz and Ian McShane.
The 3D film made an estimated $346.4m (£213.8m) worldwide, resulting in the fourth biggest opening of all time.
Outside of North America Rob Marshall's film took $256.3m (£158.3m) in its first three days on release.
Its earnings saw it record the highest-grossing international opening of all time, beating 2009's Harry Potter and the Half-Blood Prince.
Paul Dergarabedian, of box office tracker Hollywood.com, said the record "proves the importance of the global marketplace".
Disney's head of distribution Chuck Viane, meanwhile, said the figures showed audiences loved "the rebooted attitude" of the film - the first in the series not to feature Keira Knightley and Orlando Bloom.
However, the film did fall short of the North American openings of the previous two Pirate outings.
Dead Man's Chest took $135.6 million (£84m) in 2006, while At World's End took $114.7m (£71m) a year later.
The first film in the franchise, The Curse of the Black Pearl, took a relatively modest $46.6m (£28.8m) in its first weekend in 2003.
On Stranger Tides beat raunchy comedy Bridesmaids in the US and Canada, the latter taking $21m (£13m) in its second weekend in cinemas.
Thor, last week's number one film, slipped down to three with weekend takings of $15.5m (£9.6m).