Cannes Film Festival 2011: Glamour and controversy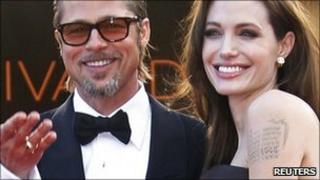 A look at the highs and lows of this year's Cannes Film Festival, an event dominated by comments made by Danish director Lars Von Trier.
This year's festival might have had "Brangelina" on the red carpet, a talking beaver puppet played by Mel Gibson and movies about rogue planets about to obliterate Earth.
But Cannes 2011 will probably forever be known as "the one that banned Lars Von Trier".
The removal from the festival of the maverick Danish director was the talking point at every cocktail party on the Croisette, the town's famous main street.
Did he deserve to be ejected for joking he was a Nazi who felt sympathy for Adolf Hitler? Or did the festival over-react by failing to take his remarks in context?
Kirsten Dunst seemed to sum it up on Sunday when she accepted a best actress prize for her role in his film, Melancholia.
"Well, this has been quite an exciting week," she said.
Von Trier's movie was not taken out of the competition for the prestigious Palme d'Or prize.
Had circumstances been different, though, he would have been on the red carpet with Dunst on Sunday night.
There was another notable absence too: director Terrence Malick, whose film The Tree of Life was the eventual Palme d'Or recipient.
Perhaps the organisers hoped that giving him the award might tempt him out of hiding. Not a chance.
This year's winning film, a 1950s-set drama starring Brad Pitt and Sean Penn, is on an epic scale.
It explores the very meaning of existence, as well as the loss of innocence.
"Most of us felt its very size and importance made it fit the scope of the prize," said Robert De Niro, president of this year's jury.
'My mushrooms'
De Niro - who presided over a panel that included US actress Uma Thurman and British actor Jude Law - said the festival had been "a very civil experience".
The actor amused the locals by referring to his fellow jurors as "mes champignons" - "my mushrooms", instead of "my companions".
The panel had none of the unpredictability of Tim Burton's left-field jury of 2010, which awarded the Palme d'Or to surrealist Thai movie Uncle Boonmee Who Can Recall His Past Lives.
Many critics thought De Niro would have favoured Drive, a violent road movie that had critics cheering during its goriest parts.
Indeed, its Danish director - Nicolas Winding Refn - was awarded the best director prize.
Yet The Tree of Life's only real competition came from The Artist, a beautiful black-and-white silent film about the end of the silent movie era in Hollywood.
Its reward came in the form of a best actor prize for its leading man Jean Dujardin, who said he would share it with his co-star Berenice Bejo.
Some were surprised Pedro Almodovar's much-enjoyed The Skin I Live In, starring Antonio Banderas as a modern-day Doctor Frankenstein, failed to get recognition.
Tilda Swinton had also been tipped for the best actress prize for her work in We Need to Talk about Kevin - the only British entry in this year's competition.
The movie was made on a shoestring budget by Scottish director Lynne Ramsay. But positive reviews from the Cannes critics should mean a widespread release.
We Need to Talk about Kevin, about a troubled teenager unable to bond with his mother, was one of several films this year to deal with children.
Austrian movie Michael drew on real-life news stories in its story of a young boy kidnapped by a paedophile, while the Dardenne brothers' The Kid with a Bike follows a boy frantically searching for his father.
And then there were the films aimed at children. Both Kung Fu Panda 2 and Puss in Boots staged press stunts at the festival.
"At my age, I have short-term memory loss," Dustin Hoffman told a press conference for the former.
"I thought I was signing up for the first one."
Press berated
Organisers will have breathed a sigh of relief that the Hollywood studios had the will and the money to finance these sorts of junkets.
Without them, the festival was in danger of slipping behind its rival in Toronto in terms of international profile.
Cannes does enjoy a certain amount of controversy, and it got it when British actor Keith Allen arrived with his movie about the death of Princess Diana and Dodi Al Fayed.
As well as criticising the establishment, Unlawful Killing also berated the British press for its ineptitude.
Amid the shouting at a bad-tempered press conference, it emerged the movie had been funded by Mohammed Al Fayed, Dodi's father.
Allen's film is unlikely ever to be shown in the UK without substantial re-editing.
Yet all that was forgotten when Lars Von Trier arrived in town.
Two years ago Von Trier made worldwide headlines when his gruesome film Antichrist premiered at Cannes.
This year his provocation was less intentional but had the same result.
Despite its abhorrence of his comments, the festival courts the spotlight as much as any celebrity.
Many believe, therefore, that at some point in the future, Von Trier will once again walk up those famous steps into the Palais des Festivals.