Placido Domingo WNO post filled by Francesca Zambello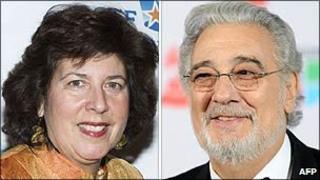 Placido Domingo's recently vacated post as artistic advisor to the Washington National Opera (WNO) will be filled by the opera director Francesca Zambello.
The respected Zambello is currently directing a new production of Wagner's Ring cycle for the San Francisco Opera.
The WNO has struggled financially in recent years and Domingo had been credited with raising its profile.
The 70-year-old Spanish tenor announced last September he was stepping down after 15 years with the company.
Earlier this year, the WNO announced plans to merge with the John F Kennedy Center for the Performing Arts in a move to give it "long-term financial security".
Zambello's work on Broadway includes directing a stage version of Disney's The Little Mermaid in 2008.
As artistic advisor, she will offer advice and expertise related to opera repertoire, casting and creative teams.
"This is the right job at the right time," she said in a statement.
The US director went on to pledge she would "work to present a rich range of international and national programming."