Cowell pulls in advertisers for Britain's Got Talent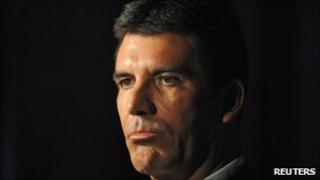 This round-up of today's main media stories includes reports on the financial impact of ITV1's Britain's Got Talent.
'Britain's Got Talent', boosted by the return of Simon Cowell, is expected to generate more than £5m in TV ad revenue for ITV during the final on Saturday night, reports Media Week.
Mark Lawson says in the Guardian Ofcom should "bang the table" over product placement in Britain's Got Talent. He says Shrek, starring a BGT judge Amanda Holden, was given three minutes of free advertising in front of one of the biggest TV audiences of the year.
Hackers in China have compromised personal e-mail accounts of hundreds of top US officials, military personnel and journalists, Google has said. BBC news reports the US company said a campaign to obtain passwords originated in Jinan and was aimed at monitoring e-mail. Google said its security was not breached but indicated individuals' passwords were obtained through fraud.
Tara Conlan says in the Guardian the proposal to axe some of BBC2's daytime schedule in order to save money appears to be "gaining traction" among senior managers overseeing the Delivering Quality First initiative. "Ditching shows such as Flog It! And To Buy or Not to Buy from BBC2's afternoon schedule in favour of simulcasting the BBC News channel was a suggestion put forward by director general Mark Thompson in March as part of the DQF process." No decisions have been taken.
If advertising has one heart-warming gift to humanity, it is on The Apprentice where it is one of the series' most consistently entertaining tasks, writes Andrew Pettie in the Daily Telegraph TV review. He says it was a tough job to choose between "two such magnificently terrible" pet food campaigns. Lord Sugar had every right to fire everybody in the room.
There is outrage in the newspapers over abuse revelations at the Winterbourne View Hospital in Bristol, as featured in the BBC's newspaper review. The Daily Mail claims a BBC Panorama programme has exposed cruelty and ritual humiliation as inhuman as anything described by Dickens.