Lowry's Hawker's Cart sells for £555,000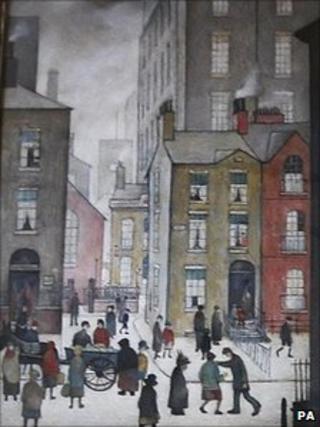 A Lowry painting, sold by The Royal Scottish Academy to raise money to buy new works, has fetched £555,000.
Money raised from the sale of The Hawker's Cart, a typical Lowry street scene, will create an endowment fund to buy key works by Scottish artists.
"It may take some time but we can now make a start," said academy secretary Arthur Watson.
"Our decision to sell the painting in Scotland has been fully justified."
The academy - an independent, privately-funded collective of artists and architects - said it had identified a number of Scottish painters missing from its current collection.
The 1929 Lowry work, depicting an urban landscape in northern England, sold at Lyon and Turnbull auctioneers in Edinburgh.
The auction house said it was "delighted" with the result.
Lancashire-born Lowry, who died aged 88 in 1976, was known for his depictions of working-class life.
Last month, his 1949 work The Football Match, sold for £5.6m at Christie's in London, a record auction price for the artist.