Mighty Boosh star's 'crash course' in theatre acting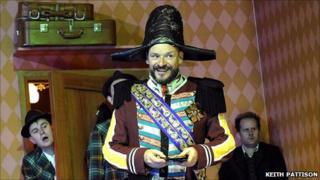 The Mighty Boosh star Julian Barratt has admitted he did not know what he was letting himself in for when he signed up for his first theatre role in The Government Inspector.
"There's a whole load of physical stuff that I knew nothing about," he told BBC Radio 4's Front Row.
"There's a whole host of techniques... which I've just had to learn in a crash course."
Barratt plays a Russian mayor who fears an inspector will uncover corruption.
David Harrower's new adaptation of Nikolai Gogol's 1836 social satire play runs from 3 June - 9 July at the Young Vic theatre in London.
Barratt co-stars in the play with Doon Mackichan from Channel Four comedy Smack The Pony.
He has been performing with Noel Fielding, his co-creator of the surreal comedy group The Mighty Boosh, since the late 90s.
But he said he had a lot to learn "about projecting, about standing, about facing the audience, about delivering stuff and finishing words and enunciating" for the mayoral stage role.
He said: "It's very important and if you don't do it no-one hears it and no-one laughs."
He said he felt like he was "over-doing it" at first and he had to get his head around "going for big decisions in terms of acting and ways of delivering lines".
He said it was a world away from The Mighty Boosh live stage show.
"We're miked on (The Mighty) Boosh (tour) so we can whisper and mutter and that's how we've always delivered our stuff, very low-gear, low-energy muttering with amplifiers.
"My natural default setting is to try to avoid at all costs making a fool of yourself and then doing it in a way I can organise and stage manage.
"In the rehearsal process it was such a revealing (experience), you have to put yourself out there and do things that you shudder at thinking about.
"I didn't really understand the physical exhaustion of doing this."
Despite the surreal nature of The Mighty Boosh and having worked as a comedian for more than 10 years, according to Barratt getting over his embarrassment has been his biggest hurdle.
"My whole style is very much on the back foot and very muttery, so I felt very embarrassed with just general actor stuff that you do, creating a shared sense of being in a group and embarrassing yourself."
Listen to Julian Barratt's full interview on Front Row on 9 June 1915 GMT.