Tony Blair added to suspected phone-hacking victims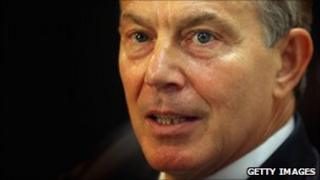 This round-up of today's main media stories includes new developments in the phone-hacking inquiry, following an MP's remarks in Parliament.
The Guardian says pressure is building on the Metropolitan police to expand their phone-hacking inquiry "to include a notorious private investigator who was accused in the House of Commons on Wednesday of targeting politicians, members of the royal family and high-level terrorist informers on behalf of Rupert Murdoch's News International". It goes on to say that Guardian inquiries "reveal that the former Prime Minister Tony Blair is among the suspected victims of Jonathan Rees".
The Archbishop of Canterbury is guest editor of today's New Statesman and has used the opportunity to criticise the coalition Government's policies. The BBC reports Dr Rowan Williams says the government is committing Britain to "radical, long-term policies for which no-one voted" and raises concerns about the coalition's health, education and welfare reforms.
BSkyB's chief executive Jeremy Darroch has promised to raise the satellite broadcaster's spending on original UK programming by more than 50% in the next three years, reports the Guardian. It says that would take the amount Sky spends on British production to nearly double the amount invested by Channel 4. Sky expects to spend £380m this year on in-house production and outside commissions - a figure it intends to increase to £600m by 2014.
Jonathan Agnew "found himself on a sticky wicket on the BBC's Test Match Special when discussing a rubber grip on Kevin Pietersen's bat handle", writes Huw Turbervill in the Daily Telegraph. The BBC's Cricket Correspondent left summariser Michael Vaughan in fits of giggles when the pair were discussing Pietersen's bat repairs. "With his air of English innocence, it is not quite clear whether Agnew was aware of the problems he created for Vaughan when asking: "It's not easy putting a rubber on, is it, Michael?" "
Serbian-American author Tea Obreht has won the 2011 Orange Prize for Fiction for her debut novel The Tiger's Wife, reports the BBC. The 25-year-old, who is the youngest author to scoop the honour, was praised by the judges as a "truly exciting new talent" for her "exceptional book".
The government's apparent U-turn on cutting jail terms for criminals who enter an early guilty plea commands plenty of coverage in the papers, as reported in the BBC's newspapers review.