Tamsin Greig to take on Royal Court role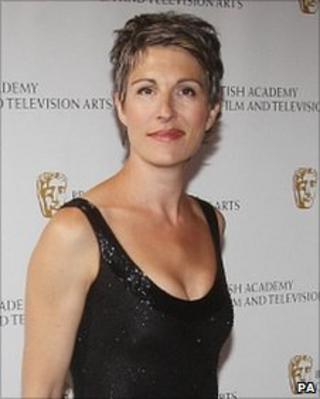 Tamsin Greig is to star in a new comedy at London's Royal Court Theatre about a former Greenham Common protester as part of its new season.
April de Angelis' play, Jumpy, will open in September.
The autumn-winter season begins in August with Alexi Kaye Campbell's The Faith Machine, with Ian McDiarmid and Hayley Atwell.
"We have a selection of brilliant roles for women in this season," said Dominic Cooke, the theatre's artistic director.
In Jumpy, Greig plays Hilary, a former Greenham Common marcher, who has turned 50 and faces parental anxieties over her teenage daughter.
On Greig's casting, Cooke told the BBC: "She's known as a comedic actress, but she's so much more than that.
"It is a play that's built around Hilary's increasing despair at turning 50 and becoming invisible to the world, and her daughter's materialistic values.
"There's a lack of connection between the two generations. I haven't seen that experience put on stage in that way before."
Greig's theatre credits include The Little Dog Laughed in the West End, for which she was nominated for an Olivier Award, and Gethsemane at the National Theatre.
The 44-year-old actress played Beatrice in Much Ado About Nothing at the RSC for which she won Olivier and Critics' Circle Awards.
She recently appeared in the film Tamara Drewe, and her TV credits include Episodes, Friday Night Dinner, Black Books and Green Wing. She plays the part of Debbie Aldridge in Radio 4's The Archers.
Other plays in the Royal Court season include Joe Penhall's Haunted Child, Debbie Tucker Green's Truth and Reconciliation, Stella Feehily's Bang Bang Bang, about the lives of NGOs in the Congo, and Rachel De-lahay's debut play The Westbridge.
In February 2012 Cooke will direct David Eldridge's Essex family drama In Basildon which explores the theme of inheritance.
"What's particularly exciting about this play is that it puts a class on stage that you don't really see very often in the theatre," Cooke said.