Morgan Freeman receives lifetime achievement accolade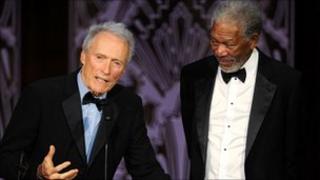 Oscar-winning actor Morgan Freeman has received the American Film Institute's (AFI) Life Achievement award at a star-studded event in Los Angeles.
Clint Eastwood and Dame Helen Mirren were among the stars who paid tribute to the 74-year-old at a ceremony held at Sony Studios in Culver City.
"This is easy to take but hard to believe," said Freeman as he became the 39th recipient of the AFI honour.
"Where I come from in Mississippi, they call this walking in high cotton."
The three-and-a-half hour celebration included clips of Freeman's celebrated films, among them Glory, Driving Miss Daisy and Million Dollar Baby.
Co-stars and colleagues took turns to sing his praises, with Eastwood calling him "the most effortless person to be around".
"In a world of too much cubic zirconium you are the real thing," said Samuel L Jackson, who was once Freeman's understudy in a New York stage production.
Forest Whitaker described him as "an adviser, a beacon, a confidant, a shoulder to lean on, protector and friend".
Sidney Poitier, Rita Moreno and Tim Robbins - Freeman's co-star in The Shawshank Redemption - were among others to pay homage.
Previous recipients of the AFI accolade include include Poitier, Eastwood, Dame Elizabeth Taylor and Steven Spielberg.