Locally run museums cut paid staff by 10%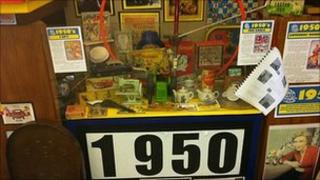 Museums run by local councils have cut the number of paid staff by 10% or more compared with last year, according to a nationwide survey seen by the BBC.
The Museums Association report, shown to The World This Weekend on Radio Four, suggests that many are relying increasingly on volunteers.
Of 63 local authorities who responded, 40% had reduced staff by at least 10%.
Museum Association director Mark Taylor described the situation as "a bit of a tale of woe."
The survey, the final results of which will be released next month, also suggests councils are transferring control of local museums to trusts.
But that may not be a solution to the funding gap. The Pumphouse Museum in Rotherhithe, south London, is run by a trust but depends on Southwark Council for most of its money and faces closure in three months' time.
The museum, which records the history of a former area of London's Docklands, and of the biscuit maker Peek Freans - once the biggest local employer - had been expecting the council to cut its grant by 28%.
Weeks before the end of the financial year, it was told it will lose the lot.
Caroline Marais, the manager, told The World This Weekend: "When we got in the door, they told us it was 100%. So we were, sort of, legs cut off really. There was nothing we could do."
Arts bodies will give money to museums for exhibitions or education, but none will step in to provide core funding, to maintain the building or pay the electricity bill.
Mr Taylor said councils are facing painful choices, and it could be better to close some museums in order to preserve the best.
"I personally would prefer to see a slightly smaller number of museums kept open and active, rather than all the museums kind of set in aspic, with no budget at all to do anything."
The survey results come in the week when The Art Fund Prize for Museums and Galleries will be awarded.
The Turner-prize winning artist Jeremy Deller, one of the judges, told The World This Weekend: "Even museums that aren't necessarily great museums with great exhibits always have a charm. I think there's not such a thing as a bad museum.
"It's what you get out of it yourself. It's what you put into it as a visitor that is important."
The World This Weekend is broadcast on Sunday 12th June at 1300bst.
Front Row will have news of the winner of the Art Fund Prize on BBC Radio Four on Wednesday 15th June at 19:15bst.