Banksy sponsors free museum admission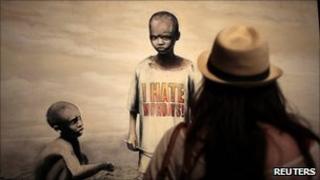 Guerilla artist Banksy is sponsoring free admission to an exhibition on street art at a museum in Los Angeles.
Tickets to the Museum of Contemporary Art's Art in the Streets exhibition usually cost $10 (£6), but will be free every Monday thanks to the artist's "unprecedented" donation.
"I don't think you should have to pay to look at graffiti. You should only pay if you want to get rid of it," Banksy said in a statement.
The exhibition runs until 8 August.
"Moca is very grateful to Banksy for his unprecedented gesture," said the gallery's director and exhibition co-curator Jeffrey Deitch.
"Art in the Streets is drawing record attendance, and opening it up to everyone will have a lasting impact on communities in Los Angeles, many of whom have not been to the museum before," he added.
The exhibition is the first major US museum survey of graffiti and street art tracing the development of the art from the 1970s to today, concentrating on key cities such as New York, Los Angeles, San Francisco, London, and Sao Paulo.
It features paintings, mixed media sculptures and interactive installations by 50 artists including Banksy.
The exhibition will travel to the Brooklyn Museum in 2012, although it it not yet known if Banksy will repeat his donation.