Misfits makes move to US TV screens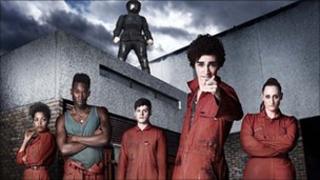 British sci-fi drama Misfits is to be shown in the US for the first time via an online and digital TV service.
The hit E4 show, distributed by BBC Worldwide, will be made available later this month on Hulu.com and on the Hulu Plus subscription service.
The latter can be accessed via various devices including gaming consoles and set-top boxes.
"I'm delighted that Hulu is premiering Misfits to an American audience," said Howard Overman, the show's writer.
The Bafta award-winning comedy drama is about a group of teenagers on community service who discover they have superpowers after a freak storm.
Misfits actress Lauren Socha beat Jessie Wallace, Lynda Baron and Gillian Anderson to win best supporting actress at this year's Bafta awards.
The first two episodes of series one will be shown on Hula on 20 June, followed by weekly instalments.