Day-long theatre show prepares for the stage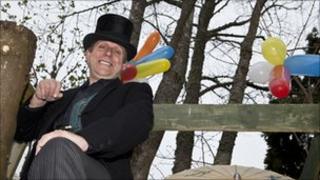 A 24-hour non-stop theatre extravaganza produced by the National Theatre of Scotland (NTS) begins on Tuesday and will be broadcast online.
The 24-hour period will be filled by hundreds of five-minute productions submitted by people around the world, from both professionals and non-actors.
The project is described as being "created by anyone for a worldwide audience of everyone".
The action begins at 1700GMT on 21 June and can be seen on the NTS website.
Participants can either perform live or pre-record their piece.
Some of the those taking part will perform their slots live in Scottish theatres.
These productions will take place at the Lemon Tree in Aberdeen, Adam House in Edinburgh and the CAA in Glasgow.
Any type of performance is allowed, although contributors were warned that the NTS may be unable to broadcast material they consider unsuitable.
The action begins with The Gods Are Watching by Horsecross Arts and will finish with Lawrence Clark's production, Shutdown.