How Macbeth became a prison drama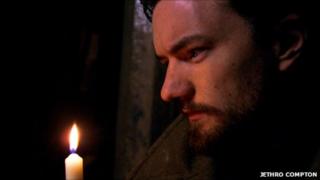 What are the challenges of staging Macbeth in an underground Victorian prison? How do the actors work alongside the ghosts of history?
Belt Up Theatre recently brought Shakespeare's bloody tragedy to the subterranean House of Detention, Clerkenwell.
The company, based in York, specialises in site-specific theatre and likes to place its audience at the heart of its productions.
Its stripped-down and candle-lit version of Macbeth was performed with an all-male cast in April and May 2011.
Here, Alexander Wright, the play's director, reflects on the experience - and scares - of taking drama into a dungeon.
Alexander Wright - co-artistic director of Belt Up Theatre
I was watching a play the other day and there was a line that asked: "Do buildings hold memories in their walls?" It's an interesting question for those of us who put on site-specific theatre.
Our four-man production of Macbeth was at The House of Detention in Clerkenwell. It's been a prison, a workhouse, a bomb shelter.
You go through a tiny wooden door and down some steps and you find yourself in the basement of what was this prison.
It's been on [TV's] Britain's Most Haunted. We had various people leave messages of our YouTube videos saying: "You won't get out of there safely!" and "Spirits will attack you!"
None of us are religious or spiritual or superstitious, but we were all terrified. As a kid I was scared of things hiding behind my curtains. I've got over that, but when I walked into this underground prison those fears were reawakened.
On the first day of rehearsals we thought we'd spend the time trying to get used to the space - to get a sense of ownership.
I told everyone to go off on their own and spend time looking around.
When you spend time in that labyrinthine system of cells, you think about the people who were locked in there in the dark, those who were attached to the shackles on the walls.
When you turn the lights off, it's pitch black. When you talk or shout, it echoes.
It was terrifying, but it was also humbling.
We realised we didn't deserve ownership over this space - where hundreds of people had been incarcerated, or died.
I found myself talking to the walls. I said "thank you" for letting us - as theatre-makers - come into this place where all these real events happened.
I stood near a cell and there was a breeze running down my right-hand side.
And as I said "thank you" to the walls, that breeze disappeared. For the rest of the time I felt entirely comfortable.
And every day I went in to turn the lights on, I said: "Thank you for letting me be here." Not because I was scared of ghosts - just because I felt like I wanted to make peace with that space.
And then we extended the run for a week and I didn't say "thank you".
Loads of horrible things happened.
There we were, doing Macbeth on Friday the 13th in a haunted prison.
Macbeth jumped through a gate - just as he had done in every show - but this time he caught his head on a rusty bar and landed on his back on another metal bar.
We had to cancel that last three shows.
It's an experience that changed my opinion of how you make theatre in a place which isn't your space, and belongs to history.
This article is based on a speech given by Alexander Wright at the Theatres Trust conference "Converting Spaces - Creating Theatres" at the Pleasance in London on 14 June.
Belt Up Theatre's Macbeth was produced by SJC Productions and Jethro Compton Ltd at The House of Detention, Clerkenwell.