George Clooney drama to open Venice film festival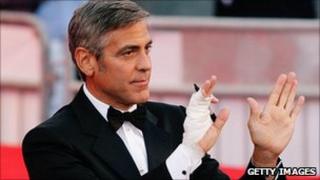 Hollywood star George Clooney will open this year's Venice Film Festival with a political drama he has directed, produced, co-written and acted in.
The Ides of March, about the mixed fortunes of a Democratic hopeful running for the US presidency, will launch the event on 31 August.
Ryan Gosling, Paul Giamatti and Philip Seymour Hoffman co-star in the movie, based on the 2008 play Farragut North.
Clooney owns a villa in Italy and is a regular guest of the annual festival.
The Ides of March is his fourth project as director, after Confessions of a Dangerous Mind, the Oscar-nominated Good Night, and Good Luck and sports comedy Leatherheads.
Beau Willimon based his play on Howard Dean's unsuccessful attempt to be named the Democratic presidential candidate in 2004.
Clooney's film will be in contention for the Golden Lion award at this year's festival, which will run until 10 September on the Venice Lido.
The 50-year-old last attended the festival in 2009, when his satirical comedy The Men Who Stare at Goats was shown out of competition.